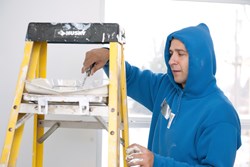 The best part of the experience was getting to know the families we were helping out.
(PRWEB) December 16, 2013
John Graham Realty kicked off this holiday season by donating professional contractors to volunteer with Habitat for Humanity. The teams showed up bright and early, full of Christmas spirit, and ready to provide affordable homes for families in need. Christmas is a time of giving and John Graham Realty feels proud to give back to the community. The teams were able to meet with the partnering families and hear their stories, bringing awareness of the current economic need in the Detroit area. John Graham himself, the owner of John Graham Realty, grabbed a paint brush and started working. He expressed his excitement to provide his professional team for Habitat for Humanity to utilize in the completion of the homes.
The team of volunteers were able to take part in the construction on three different work sites. They grabbed their tools and began working hand in hand with Habitat for Humanity. The Site Director was happy to have a crew that took such pride in their work. Mike Ullrich, the Project Coordinator of John Graham Realty stated, "The best part of the experience was getting to know the families we were helping out. What I learned was how much dedication these families have to make the program work for others. I think the sweat equity the families put in speaks volumes about their dedication to changing their lifestyle". John Graham Realty's team understands the importance of home ownership and were able to bring their construction knowledge to a local need. The volunteers offered their time and effort, leaving a lasting impression on the surrounding community and family in need. As the final day came to a close, John Graham Realty was proud to shake hands with Habitat for Humanity.
The partnership between John Graham Realty and Habitat for Humanity will continue through the following years. As a Real Estate Company, John Graham Realty wants to continue to support the economic growth of the housing market, as well as provide community support. Helping people afford their dream homes is more than offering a family a house, it is offering a family a future. The Habitat for Humanity team refers to it as 'Not a hand out, but a hand up'. The volunteers enjoyed being a part of the Habitat for Humanity process, and look forward to offering support again in the upcoming year.
About John Graham, Inc.:
John Graham Realty is a Michigan based company that services both buyers and sellers. John Graham Realty specializes in the marketing, listing and selling of new homes, condominiums, undeveloped land, and commercial and investment opportunities. John Graham is redefining real estate through innovation, integrity and partnership. For more information, please call (586) 799-4700 or visit http://www.johngrahaminc.com.