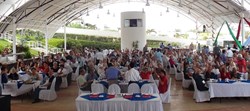 Cancun, Quintana Roo, Mexico (PRWEB) January 07, 2014
Sunset World Resorts & Vacation Experiences, with resort properties in Cancun and the Riviera Maya, Mexico, proudly sponsored the fourth annual Natural Stars Contest for the Golden Years Club For Senior Citizens, as part of its ongoing community support endeavors.
This year's contest featured 150 participants competing in group categories of singing, poetry, theatre and dance, all to the theme of Romance Through The Golden Ages. The 15 teams of contestants performed and celebrated from 9 a.m. to 1 p.m. in the Moonlight Theatre of the Sunset Royal Beach Resort. The judging panel for the contest included Annie Arroyo, Director of Brand and Public Relations for Sunset World, Journalist Arturo Medina and Riviera Maya Public Relations Director Ana Mari Irabien.
The judges elected three finalist teams in each category who will be competing for first place via a social media contest and online voting at http://www.facebook.com/SunsetWorld. The public can go online and vote starting Dec. 20, 2013 and ending Jan. 27, 2014.
To close the event, Sunset World surprised the distinguished members of the Golden Years Club with a musical presentation by Grupo Caoba, of La Salle Cancun, comprised of 25 students, former students, parents and teachers of the school, who delighted the audience with their music from The Beatles.
Sunset World Resorts & Vacation Experiences offers all inclusive plans, a VIP Travel Club, its own marina, yacht club, equestrian center, rental car operations, wellness spas, golf privileges and travel services. In addition to the Hacienda Tres Rios Resort, Spa & Nature Park in the Riviera Maya, Sunset World operates its Sunset Royal, Sunset Marina Resort & Yacht Club and Sunset Fisherman resorts in Cancun.