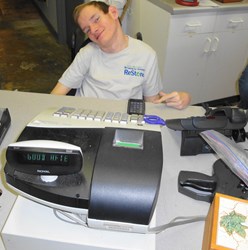 Plano, TX (PRWEB) December 16, 2013
Habitat For Humanity of South Collin County has recognized four of its volunteers with The President's Volunteer Service Award for their work with South Collin County ReStore. Established in 2003, the President's Volunteer Service Award is a way to thank those who demonstrate commitment and provide inspiration for others to engage in volunteerism.
Chance Sharpsteen – Gold Award: Chance is a 22-year-old Collin College student and has performed over 1,500 hours of community service on behalf of Habitat For Humanity South Collin County Texas (Plano). He is usually found Tuesday through Thursday answering the phones at the Plano ReStore, but has also, with the help of fellow Collin students, worked on building a home for a challenged home owner, which is quite appropriate considering Chance also travels by wheelchair. Working on an accessible home was rewarding for him. Chance's presentation of his Service Learning project at school was picked for one of ten presentations to all participants and helped him earn a Collin College scholarship.
Peter Young – Silver Award: Pete is a retired Army Officer and retired from Home Depot who has been one of Habitat For Humanity of South Collin County's greatest volunteer assets. He has helped in a multitude of ways, such as on home builds, finding land, building infrastructure for the affiliate and the Plano ReStore and helping with the annual Gala and annual Golf Tournament. Additionally, Pete has attended networking meetings on a regular basis, such as the Allen Chamber and Netweavers in Allen, just to mention a couple. Pete Chairs the ReStore Committee and provides invaluable leadership and a "can do" attitude.
Mavis Everett – Bronze Award: Mavis is a transplant from San Antonio and carries herself with that Texas swagger along with a love of recycling and repurposing. She has been an aid to the ReStore marketing and merchandising efforts and served as a Plano Chamber representative for the Plano ReStore for over six years. As an entrepreneur with incomparable business acumen, she has helped the ReStore to evolve into the incredible show piece it is now.
Mark Whitcomb – Bronze Award: Mark started as a slightly disgruntled patron and while complaining was asked, "What are you going to do about it?" Habitat For Humanity of South Collin County obviously needed volunteers, so Mark and his family started volunteering. They have since been an integral part of the ReStores continued progress. Mark said, "The Bible teaches to serve one another and help those in need and build community, I am glad to help Habitat for Humanity do just that." Mark often quotes Ronald Reagan, "We can't help everyone but everyone can help someone," and Millard Fuller (founder of Habitat for Humanity), "We've learned that God is the God of the whole crowd, God leaves no one out nor should we. We build homes to help those in need, using biblical economics, no profit and no interest." People like Mark, whose heart is stirred and spirit is willing, uses his skills, time and talents, and makes sacrifices for the greater good. It's a selfless act, volunteering, and in being so selfless a volunteer comes away with something for themselves. A sense of satisfaction of knowing it's better to give than to receive.
The Habitat For Humanity South Collin County Texas makes it their mission to build hope, homes and community from near Frisco to Wylie to Fairview/Allen and Plano. The Habitat ReStore Plano is open to the public seven days a week for shopping, donating and volunteering. Proceeds go directly into projects locally and in 108 countries. Donations of new and used appliances, furniture, home décor items, and more are combined with purchases of factory direct mattress/boxsprings, rebuilt computers and laptops, and other items sold to the public every day.
Habitat For Humanity South Collin County ReStore is located at 1400 Summit Ave Plano, TX. 75074. Call 972-424-0791x5 for more information or visit their website, http://www.habitat-scc.org/restore.
About the company:
Habitat for Humanity International is a nonprofit, ecumenical Christian housing ministry. HFHI seeks to eliminate poverty housing and homelessness from the world, and to make decent shelter a matter of conscience and action.
Shop for beautiful new and used furniture, appliances, home decor, fixtures and more at the Plano ReStore where money spent goes directly to serving the underprivileged in Plano, Allen, Wylie and more. For more information, visit http://www.Habitat-SCC.org/Restore.
HFH-SCC is creating partnerships in South Collin County, Texas to provide decent, affordable homes for deserving families while building foundations for community.