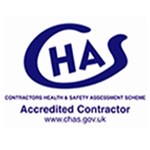 Weblight achieves sixth consecutive CHAS award
Ware, Hertfordshire (PRWEB UK) 17 December 2013
Weblight specialist lighting solutions is pleased to announce it has met buyers' health and safety standards for a sixth consecutive year and achieved accreditation to CHAS.
CHAS assesses a company's health and safety policy statement, its organisation and also its specific health and safety arrangements to a standard acceptable to its buyers and to others.
Participating in the CHAS scheme helps both suppliers and buyers.

Suppliers show compliance with important parts of health and safety law (the core criteria described in the CDM regulations).
On achieving compliance a supplier is approved to work for all of CHAS' buyers.
Inconsistencies are reduced where some suppliers may be judged compliant by one buyer but not another.
CHAS gives guidance on any weaknesses in a supplier's safety management, including how they can improve.
Being a CHAS supplier or buyer saves both time and resources.
About CHAS: In 1997 a group of health and safety and procurement professionals from across Great Britain worked with the Association of London Government (ALG) to develop CHAS.
CHAS started with two main aims.

To improve health and safety standards across Great Britain.
To reduce duplicated safety applications for both suppliers and buyers.
They currently have more than 500 public and private sector buyer organisations, such as councils, housing associations, NHS trusts, including a growing number of large private companies who employ sub-contractors.
About Weblight: Weblight provides energy efficient lighting design, installation and maintenance solutions to the Retail, Healthcare, Commercial, Manufacturing, Transport & Logistics and Education sectors, whilst also working in partnership with many Facilities Management companies.