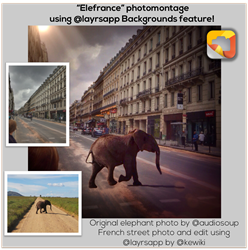 One of my favorite features in layrs is the ability to put one subject into a new background like I did in my photo Elefrance, says Super Instagramer, Dave Temple (@kewiki). It's easy and fun!
Boston, MA (PRWEB) December 20, 2013
Artware, Inc. continues to advance the world of mobile photography with the introduction of the next version of their popular app, layrs. With its initial release in July 2013, layrs pioneered the way for true multi-layer photo editing on a iOS devices. Before the introduction of layrs, editing in multiple layers with such accuracy was only available on a PC with professional editing tools. Now with the latest release, layrs has upped the bar even more by offering new features including a higher level of accuracy in its proprietary technology for masking objects in a photo.
Separating a photo into two layers, a foreground and a background, provides the photographer a new level of creativity. Each layer can be edited separately with effects such as blurring the background while the subject is highlighted remaining sharp and in focus. Or adding a different textured or colored effect to just the foreground or the background. Or applying a horizontal blur to a subject to create the effect of motion. The options go on and on.
In order to edit in multiple layers, a photo needs first to be separated into layers very precisely on the boundaries of objects or elements within the photo. layrs offers a groundbreaking interactive high-precision masking technology to accurately detect the edge of objects. The proprietary "smart mask", an auto-segmental detection technology, senses the movement of the finger and spreads by itself to completely mark an object, isolate and extract it on it's exact boundary with single-pixel accuracy. This allows a user to not only edit the subject and the background differently, but also remove the subject and place in a new background.
With the latest version, layrs has not only increased the accuracy of the masking technology, but has also added other enhancements and several new filters for painting, coloring, blending and distorting. The major new features include:

A masking feature that allows users to zoom in on an image in order to more easily and accurately mask the edges of objects, particularly when the edges are uneven.
Quick editing on a single layer. Users can now choose to do a quick and easy edit on the whole image using a host of new filters and effects.
Improved cropping feature to allow editing photos in any dimension. layrs users will now have the option to edit their photos in any dimension or choose a quick square image for popular sharing platforms like Instagram.
"We have had great feedback from our fans who use layrs on a daily basis," says Janice Ozguc, founder, "In less than a week, users have recognized the enhancements and responded with great accolades. Their support and devotion to layrs has truly made it possible to reach record downloads in a short period of time"
In just five months layrs has been downloaded over 800K+ times and had over 20M photos edited. This has invigorated Artware to move faster towards offering these next enhancements. "The first time I used layrs I immediately noticed the accuracy of the technology and recognized it as a premier tool for editing photos in multi-layers,' said Dave Temple (@kewiki), Super Instagramer and avid layrs user, "The layrs team continually offers new features and enhancements that make it a great photo editing tool."
The multiple layer technology of the layrs app achieves results previously unseen on mobile photo editing applications. With the new features offered in the latest release, layrs is positioned to be the "Go To" app for mobile shooters with an awesome layering technology included. Additionally, Artware promises additional new and exciting updates in the coming months. Stay tuned!
Further Information
Janice Ozguc
janice(at)artwarestudio(dot)com
781-632-8011
http://www.artwarestudio.com
Instagram: @layrsapp
Twitter: @layrsapp
FB: http://www.facebook.com/layrsapp1
YouTube: http://www.youtube.com/watch?v=d6yqKT8zIkk;
http://www.youtube.com/watch?v=UHDCjGg_Shs
###
About Artware, Inc.
Artware, Inc. was founded in 2012 by Moti Kintzlinger and Janice Ozguc. Artware, Inc. specializes in developing mobile applications for the masses in the social markets spaces, most recently creating the first generation of layrs, a multi-layer photo-editing app. The company is headquartered in Boston, MA with an R&D team based in Israel.