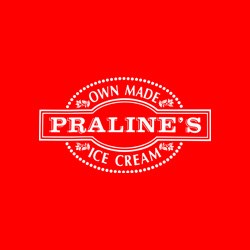 Hartford, CT (PRWEB) December 18, 2013
Just in time for the holiday season, Connecticut's own Praline's Own Made Ice Cream is once again getting into the spirit with delicious season flavors including their highly popular ice cream Yule log. Featuring black raspberry ice cream and chocolate cake roll topped with chocolate cake crumbs and chocolate drizzle, this sweet and tempting ice cream treat is a must for any company or private holiday party. Elegantly decorative and rich in flavor, the Praline's holiday ice cream Yule log is a Connecticut favorite and is just one of many delicious holiday flavor offerings from the local ice cream franchise.
From November through January, Praline's offers many seasonal flavors of ice cream to entice fans of all tastes. Some of the more popular ice cream flavors this time of year include Apple Caramel Crumb, Peppermint Stick, Egg Nog Chip, Pumpkin and Cranberry Nut Gingersnap. Not only does Praline's offer excellent seasonal flavors of ice cream, they also produce fantastic ice cream pies including Apple Crumb and Pumpkin.
However, it is the ice cream Yule log that sets the standard when it comes to festive and sweet holiday party treats. Featuring made from scratch ice cream manufactured in-house, the Praline's holiday ice cream Yule log is a terrific treat for school parties, company gatherings and even private parties with friends and family. The savory blend of raspberry ice cream and real chocolate cake with decorative and delicious chocolate cake crumbs and delectable drizzle makes the ice cream Yule log a treat for kids and adults. Impressing party guests has never been easier with the tasty ice cream Yule log.
Throughout December, Praline's also offers original and incredible seasonal ice cream flavors that can be enjoyed in a cone or cup or pre-ordered to bring to a holiday party. Improve the dessert options at any office holiday party of Christmas Eve dinner with amazing holiday flavors including the refreshing Peppermint Stick made with peppermint flavored ice cream with tiny peppermint candies, Egg Nog Chip with egg nog ice cream and teardrop chocolate chips or the Cranberry Nut Gingersnap made with cranberry ice cream, walnuts and gingersnap cookies.
Praline's has 16 locations throughout the state which makes it easy for residents to find a nearby store to order and pick-up their holiday ice cream Yule logs. From the corporate center in Wallingford and the latest store in North Haven to West Hartford and Cheshire, there's a Praline's location within driving distance for most Connecticut towns.
Praline's Own Made Ice Cream was established in 1984 with the first store being opened in the Colony Plaza, now the Staple's Plaza, in Wallingford. Founded by Donna and the late Joe Torre, Praline's distinguished itself from other ice cream shops by making fresh ice cream daily in their own shop. The franchise currently has 16 locations throughout the state and another one planned for the Westfield Trumbull Mall. Praline's offers customers holiday ice cream Yule logs, ice cream pies and a wide variety of creative flavors including Graham Cracker Smacker, Moose Lake, Espresso Ripple Bean and their signature flavor Beez Neez.