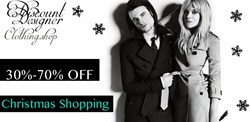 The Discount Designer Clothing Shop has all the designer neccessities to complete the perfect Winter wardrobe.
Montreal, Quebec (PRWEB) December 18, 2013
As the days are getting shorter, and the temperature is lowering, it can be hard to style for these Winter months. However, with some helpful tips, staying fashionable this Winter won't be such a feat. There are several new items in The Discount Designer Clothing Shop's stock, that are guaranteed to create a stylish ensemble. With designer Winter jackets, hats, scarves and boots, there are many items to add to the wardrobe.
When the Winter season appears, it is tempting to reach for the first warm thing when one wakes up, abandoning any fashion thoughts. In the Winter, it is important to stay warm and dry, but that doesn't have to involve sacrificing style. Often people find that the way to keep warm in the winter is by wearing bulky layers. After these bulky layers, an oversized ill fitting jacket is thrown on, but there are other options.
Several designer brands have created jackets that are both flattering and warm. The Discount Designer Clothing Shop has started carrying some of these top brands, such as Canada Goose, and Moncler.** "These are timeless winter essentials," reasons Tant, "so if you invest in quality, you will have them forever — a smart Moncler ski jacket will last for years." These brands have a world renowned status for providing customers with a stylish jacket, that keeps them warm.
The Discount Designer Clothing Shop receives products via designer overstock, and products from previous seasons collections. This situation allows for products to be sold at lower prices, thus consumers can find these jackets at more attainable price points.
Another important aspect of Winter dressing is what one wears under a jacket. A warm sweater can be a versatile item for ones closet, in the Winter months. A sweater that is warm doesn't have to be bulky. The right sweater will be comfortable indoors, and warm under a jacket outside. Recently received menswear products included Dirk Bikkembergs Men's Sweaters. These sweaters are a great option for looking sharp and staying warm this season. For women , nothing beats a cashmere sweater. The Gucci Cashmere Sweaters are great options, for those trying to stay stylish, and warm. ***Cashmere is luxurious and fashionable and is also a durable and practical investment. Cashmere travels well and doesn't wrinkle. It offers great insulation; is warm in the winter and cool in the spring"
It's not just Winter outerwear in new arrivals. The new collection also brings in some Bottega Veneta evening clutches for women.
Some feel that a clutch, or evening wear in general, is not a Winter style staple. However, with the Winter season comes many holiday parties. In the Winter, one may be more inclined to just wear a simple black dress, since it is dark and cold. Wearing light and bright colours, can feel a bit summery. That's where these great knot clutches by Bottega Veneta come in handy. A clutch that adds a pop of colour, is a perfect solution for a simple Winter evening look.
The Discount Designer Clothing Shop has all the designer necessities to complete the perfect Winter wardrobe. With constant new arrivals, it won't be long before the new Spring fashions arrive.
For more information about the website's products and features, visit DiscountDesignerClothingShop.com today or contact their customer support for inquires.
About The Discount Designer Clothing Shop
A recently launched online fashion retailer. The site offers a wide selection of products for men and women at reduced prices. The stock is carefully selected from the past collections of the top designer fashions. With brands from Prada, to Gucci there, is a large variety of fashions from 30-70% off.
**http://www.vancouversun.com/life/Chalet+chic/9157313/story.html
***http://www.cashmere.org/cm/FAQ.php