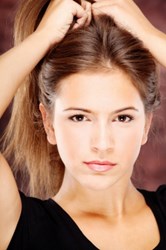 Boca Raton, Florida (PRWEB) December 18, 2013
It's been a long year and now it's time to give your hair a break from the harsh effects of your heated styling tools. The heat from your trusted blow-dryers and hair irons can be damaging to your hair, drying it out and causing flyaways and split ends. Dry hair can eventually become brittle and weak and may break off. Leading hair restoration company Hair Club® (http://www.hairclub.com) suggests straying away from using hot tools as one of your New Year's resolutions to help keep your hair looking and growing its best.
Not only will limiting the use of hot tools keep your hair healthier, it will also save you time and allow you to try out some new and easy styles. The Hair Club stylists recommend these four holiday-ready hairstyles that can be achieved sans heat:
Winter Waves
Soft and flowy waves couldn't be any more on trend this season. But while many women turn to a curling wand to achieve this look, you can actually give your hair some loose waves without the help of harmful heat. First, braid sections of damp hair and secure with soft elastics. Tip: The larger the braid, the looser the wave. Next, let your hair air-dry in braids (drying overnight works best) and then carefully undo the braids and set waves with hairspray.
Party Ponytail
Pump up your ordinary ponytail with a party-perfect twist by concealing your hair tie with your own hair. Place your hair in a ponytail that best suits your holiday outfit (high, low, to the side or slicked back) as normal, except leave out one section from underneath. After you pull up your hair without the section, divide the section in half and twist the pieces around your elastic. Secure with a bobby pin.
Chic Top Knot
The top knot is as sophisticated style that can be achieved in seconds. With your head upside down, gather hair at the top of your head as if you were making a ponytail and twist the pony so hair is in a spiral. Stand up straight and coil the hair into a bun. Secure with bobby pins or a hair tie. Mist with hair spray.
Au Naturel
If you're constantly styling your hair with blow-dryers and irons you may not realize the potential of your hair in its natural state. Try letting your hair air dry and using a styling product or two designed to control or enhance your specific hair type. For some extra holiday glam, part hair on the side and pin back a small section from the front on one side.
If hair loss or thinning is preventing you from sporting any of these hairstyles, Hair Club can help. Hair Club offers safe, proven treatments designed especially for women. Take this quick online hair assessment to learn more about what solutions are right for you or call 888-847-4344 now to schedule a free microscopic hair and scalp analysis with a hair loss expert.
For more tips and information on women's hair loss and maintaining healthy hair, be sure to visit: http://blog.hairclub.com/.
About Hair Club:
Founded in 1976 by Sy Sperling, Hair Club is the leading provider of all proven hair restoration solutions FDA-approved or cleared to work for hair loss. Hair Club has granted more than 500,000 men, women, and children an experience that truly changed their lives. Today, Hair Club has 100 locations throughout the United States, Canada, and Puerto Rico and is a wholly-owned subsidiary of Tokyo-based Aderans Co. Ltd, the world's leading provider of total hair loss solutions. Aderans brands in the U.S. include Bosley.
*If you wish to reuse the content of this press release, please include a link to http://www.hairclub.com/.