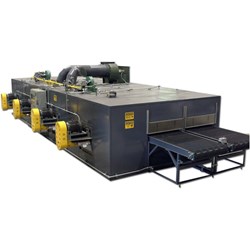 Chattanooga, Tenn. (PRWEB) December 19, 2013
Davron Technologies, Inc. designed and manufactured a gas-powered continuous conveyor oven to cure cast ceramic panels. Capable of curing 6,500 pounds of ceramic material in an hour and a half, the DTI-782 continuous conveyor oven evaporates seven pounds of water every 10 minutes from each of the panels that are run through it. Typically, 72 panels per hour are processed, moving through the oven on two independent conveyors. Drying time can be adjusted by running each conveyor at different speeds, depending on product requirements.
To cure the ceramic panels, the DTI-782's conveyor system moves products through two separate temperature-controlled zones on flat-wire high-carbon-steel belts. The first zone is heated and operates at temperatures between 250ᴼF and 450ᴼF, with a maximum temperature of 600ᴼF. Once the designated heating cycle is complete, the parts are transferred to a cooling chamber where their temperature is reduced to 150ᴼF in approximately 30 minutes. Most of the drying occurs in the first zone, which is outfitted with a large burner, while the second zone uses a smaller burner. This two-chamber design is more efficient than a comparable single-chamber design, which would consume more gas.
The combined dimensions of the DTI-782's interior chambers are 7'0" wide x 32'0" long x 1'0" high. The continuous conveyor oven features two full modulating natural gas burners, four circulation fans, and one exhaust fan. The oven's interior chambers are made out of 16-gauge aluminized steel backed by six inches of eight-pound-density mineral wool insulation. The structural steel frame that holds the interior chambers is covered in 16-gauge carbon-steel paneling coated with high-temperature paint.
Davron designed the DTI-782 continuous conveyor oven based on two criteria provided by the client: the amount of moisture to be removed from each product and the production rate. Davron did extensive testing to determine the temperature profile needed to meet these requirements and used this information as the basis for the custom design of the DTI-782. At Davron's recommendation, the customer added the second conveyor and elected the two-chamber design to increase production speed and efficiency. Once the continuous conveyor oven was manufactured, Davron did acceptance testing and training with the customer at Davron headquarters in Chattanooga, Tn., prior to shipment.
Visit http://www.davrontech.com for more information about Davron's continuous conveyor oven capabilities. Or, if you'd like to discuss your own industrial oven project, please call Davron's Vice President, Jimmy Evans, at (888) 263-2673, or fill out Davron's online spec submission form.
About Davron Technologies, Inc.
Davron Technologies, Inc. custom fabricates industrial ovens, providing turnkey design and system integration services to develop thermal processing solutions. Davron is a total industrial oven manufacturer, creating custom industrial ovens and precision process equipment for every industry that requires thermal processing. Each Davron industrial oven is custom built according to customers' unique specifications. As the Provider of Industrial Oven Solutions, Davron offers one of the largest selections of in-house and on-site industrial oven services in the world.