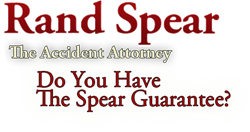 (PRWEB) December 17, 2013
Sadly, millions of Americans become ill or injured while performing work related duties. When such an occurrence takes place, an individual will often be entitled to compensation. That being said, the laws established to protect workers' and employer's rights can be extremely complicated. Plus, every case has a unique set of circumstance, each of which is crucial to the legal rights of an injured worker. Thankfully, Rand Spear, The Accident Lawyer, is now taking clients in need of representation for worker's compensation cases this December 2013.
Many Americans are simply not aware of their rights as they relate to worker's compensation. There are different sets of laws across the United States which dictates an injured or ill employee's right to worker's compensation benefits. In certain cases, where a federal employee or employer is involved, a different set of laws takes precedent. Pennsylvania employees should be primarily concerned with the Pennsylvania Worker's Compensation Act. This act requires all employers to provide a certain level of worker's compensation insurance. This important insurance coverage applies to almost all employees, including: full-time, part-time, non-profit, for-profit, and seasonal employees.
The commonwealth of Pennsylvania, in many instances, is ahead of other states when it comes to promoting workplace protections. In fact, there are well over 10,000 state-certified workplace safety committees throughout the state of Pennsylvania. That being said, working conditions can still result in a Pennsylvania worker being left ill or injured. This is where the team of legal professionals at Rand Spear can help. The attorneys at Rand can help ensure an employee is granted the rights they deserve.
About Rand Spear, the Accident Lawyer:
Spear & Greenfield, P.C. is a personal injury litigation firm, which handles most varieties of personal injuries including those resulting from automobile accidents, slip and fall accidents, medical malpractice, products liability, workers compensation and social security disability. Spear & Greenfield attorneys are licensed to practice law in Pennsylvania and New Jersey.
To learn more visit http://www.randspear.com, or call 855-529-9920 today.