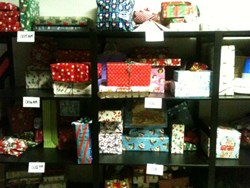 Chicago, IL (PRWEB) December 17, 2013
AFN, an award-winning logistics and supply chain company, is sponsoring its 7th annual holiday toy and clothing drive to deliver gifts to preschoolers and first graders at the William H. Seward Communication Arts Academy in the Back-of-the-Yards neighborhood in Chicago this coming Thursday, December 19.
Each year, the students with help from their teachers write letters to Santa. The letters make their way to the "elves" at AFN where they are posted on a board. Employees select a child - or often more than one - for whom they buy, wrap and deliver gifts. Since initiating the program in 2006, AFN employees have provided gifts ranging from warm hats and coats to toys and stuffed animals to the kids at Seward. This year, the company is again matching employee donations to buy practical items such as coats, scarves, mittens and hats.
"Given that our business is transportation, I guess you could say that playing 'elf' comes naturally to us," said Michael Nervick, CEO of AFN. "Our team has been busy shopping and packing up gifts for 180 kids whose economic circumstances are often not great. Giving Santa a helping hand, while delivering gifts to kids who may not otherwise receive many, has become a holiday tradition for our company."
Dates to note:
Gifts are being wrapped and loaded Wednesday, December 18 at AFN's facility at 7230 N. Caldwell Avenue, Niles, IL 60714.
The gifts will be delivered to the kids at Seward Communication Arts Academy on Thursday, December 19 starting at 8:30 a.m.
About AFN
Serving motor carriers, manufacturers and retailers since 2003, AFN (formally known as Advantage Freight Network) is an award-winning leader in freight brokerage, third party logistics and transportation management services. We are known for our commitment to client service, our proactive approach to fighting cargo theft and our expertise in retail compliance. To learn more about AFN, visit http://www.loadafn.com or call 877-LOAD-AFN.
About William H. Seward Communication Arts Academy
Our mission at Seward is to provide a program that is committed to a community partnership that provides a safe, nurturing environment with a focus on reading, writing, mathematics, technology and communication arts that will develop responsible lifelong learners.