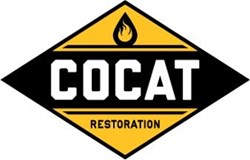 Colorado Springs, CO (PRWEB) December 17, 2013
COCAT Restoration is proud to announce Jim Spinosa as the new Southern Colorado Manager. Joining COCAT in September, Mr. Spinosa brings over 25 years of experience in the restoration and construction industry, having worked in the Southern Colorado market over the past 5 years. In his new role, Jim will provide leadership to all business development, sales and operations activities in the area. Jim's industry knowledge and business acumen combined with the talents and skills of our existing COCAT team make COCAT Restoration one of the top restoration companies Colorado Springs, Pueblo and surrounding areas has to offer.
Jim will play a key role in managing service delivery to our existing customers in addition to cultivating new business relationships in the Colorado Springs area. Jim commented, "I'm honored to represent COCAT Restoration and carry forward its proud history of quality work and customer satisfaction. Supported by the combined resources of COCAT's Front Range organization, I look forward to significantly expanding our business in Southern Colorado."
Whether a property is facing fire or water damage Colorado Springs, Pueblo, and surrounding areas, COCAT Restoration is the Colorado restoration company to trust. COCAT is available 24 hours a day, 7 days a week, 365 days a year for all your restoration needs. COCAT provides a level of service and integrity that sets it apart from other restoration companies. The Water damage Colorado Springs, Pueblo and surrounding areas experience can be traumatizing, so let COCAT Restoration bring an Immediate Peace of Mind when it comes to fixing your property.
Contact COCAT for more information by visiting cocat.com or calling 719-527-4380 or 303-565-3800.
Proud to be one of the top Denver restoration companies, COCAT Restoration specializes in water and flood damage, fire and smoke damage, mold mitigation, asbestos abatement, meth lab/grow house and environmental cleanup and content restoration. They also offer general contracting services, project consulting, free estimates and a 90-minute or less response time for all emergency calls.