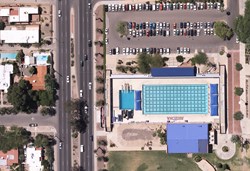 Colorado Springs, CO (PRWEB) December 17, 2013
A triple is one of baseball's most exciting achievements, and so is mapping firm Sanborn's recent triple. Sanborn beefed up its high-tech arsenal with three new UltraCam Eagle cameras, all purchased in one deal in early 2013. Management's confidence the state-of-the-art technology would bolster the company's product quality and productivity was well founded.
"We've successfully been flying the new Eagles nonstop," says Sanborn CEO John Copple. "The cameras and the data have exceeded our expectations. The real beneficiaries of the new technology are our customers."
UltraCam expert Craig Sweitzer, Sanborn's data acquisition supervisor, can't say enough about the Eagles. Sweitzer is one of North America's veteran UltraCam operators, with more than 10 years of expertise.
"From an operator's perspective, there's a lot to like," says Sweitzer. "They're smaller and lighter than our previous cameras and take up less space in the aircraft. Fewer system components and the handy solid state data units make the mapping process more efficient from start to finish."
To date, Sanborn's Eagles have mapped more than 40,000 square miles, from Los Angeles and New York to the Mojave Desert, at 3-inch, 6-inch and 1-foot resolutions, and customers are buzzing about the data. Sanborn recently completed a water management project in southeast Colorado for Colorado Springs Utilities. Land Based Services Supervisor Eric White, PLS, was delighted with the data.
"We had strict requirements for this project, and Sanborn came though with flying colors," says White. "The digital imagery is clean and crisp, even better than we expected. We wouldn't hesitate to use Sanborn again."
About Sanborn
Sanborn is a preeminent leader in the exploding geospatial industry, delivering state-of-the-art aerial mapping solutions to customers worldwide. Using cutting-edge technology, Sanborn specializes in high-quality aerial and mobile LiDAR, aerial orthophotography, 3-D modeling and visualization, oblique aerial imagery and software development.
The firm currently operates a fleet of 14 aircraft across the United States, and was the first company worldwide to employ three advanced Eagle cameras from Microsoft's award-winning UltraCam product line. Sanborn's technology advantage, innovative image processing expertise, a local presence nationwide and project management proficiency deliver unmatched value to its global customers. Learn more at http://www.sanborn.com.