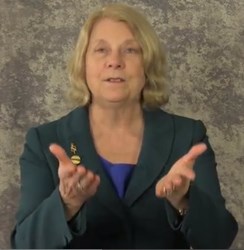 Why treat customers equally when some are more profitable than others?
Daytona Beach, FL (PRWEB) December 19, 2013
The state funeral for Nelson Mandela honored his achievements in human rights. People around the world consider him the "Father of South Africa" and acclaim him for fostering racial reconciliation and the equal treatment of all people.
In contrast, Dr. Betsy Kruger fosters the unequal treatment of customers. Her marketing tips encourage businesses to favor their best customers. She remarks, "Customers do not treat your business equally so why treat your customers equally?
Dr. Kruger encourages businesses to focus on serving their top customers, rather than treating all customers equally. She believes that highly profitable customers prefer a business that specializes in serving them, rather than serving other customers. Her marketing tips coach business people to focus on their most profitable customers.
She quotes the folk saying, "A jack of all trades is the master of none." Dr. Kruger interprets this saying to mean that a business that treats all customers equally will serve no one well. She believes that desperate business people try to serve all customers and makes other impossible promises:
According to an Aesop fable, a business person decides to escape his debts by selling a sow. When a prospective buyer asks about the sow's fertility, the debtor brags, "She gives birth to females in the spring and males in the autumn." With sarcasm, the prospect replies, "Before long, it's quite clear this sow will be giving birth to goats." Aesop concludes, "People pledge the impossible when they are desperate."
Other Aesop's fables dramatize Dr. Betsy Kruger's marketing tips. "For example, one contrasts a princely lion cub with a litter of little foxes. Aesop advises, "Quality, not quantity counts." Dr. Kruger believes this means that entrepreneurs should target a few top quality customers, rather than a quantity of less profitable customers.
Her marketing tips coach small businesses to describe, delight, and duplicate their most profitable customers. She advises entrepreneurs to delight them with products and services, promote to them with empathy, and reward these loyal heavy users.
Dr. Kruger believes that any business can duplicate top quality customers by converting similar prospects into highly profitable new customers. Dr. Kruger predicts, "When highly profitable customers replace less profitable customers, your profits can quadruple."
Each of her marketing tips reveals how to profit from the 80/20 rule. According to scientists, the 80/20 rule predicts that the top 20% of customers will generate 80% of the profits. This universal law of results predicts that the top 20% of customers will be 16 times more profitable than other customers.
The 80/20 rule is the basis of Dr. Kruger's upcoming book, "Aesop's Keys to Profitable Marketing." Her website summarizes 12 ways to profit from the 80/20 rule. According to Dr. Kruger, any business can use these marketing strategies to spark their profits.
In 2011, Business Expert Press published her first book, "Top Market Strategy: Applying the 80/20 Rule." Barry Silverstein praises her college supplement as a "profit-generating tool." Marketing professors around the world can adopt this book for their marketing classes.
In summary, Dr. Betsy Kruger provides marketing tips to entrepreneurs and small business owners. Her upcoming book, "Aesop's Keys to Profitable Marketing" coaches them to create profitable action plans for their business.
Dr. Kruger is a professional speaker, business coach, and published author. Her consultancy, Strategic Power has an A+ rating with the Better Business Bureau and is certified as a Women-Owned Business Enterprise.
For fifteen years, Dr. Kruger led many marketing research projects for corporate clients. She taught marketing for ten years at business schools such as the Thunderbird School of Global Management. Recently Dr. Kruger has coached thousands of entrepreneurs to start up a profitable business. Her mission is to spark profits, one business at a time.
Dr. Kruger has been a guest on many syndicated radio shows and will gladly customize her message for your audience. Please contact Betsy Kruger directly for media interviews, speeches, and articles.