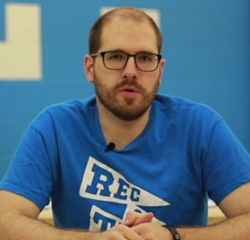 If we re-imagine a Rec Center into a Tech Center, it becomes a place for youth and community members to explore new areas of interest.
Nashville, TN (PRWEB) December 17, 2013
Dr. Rod Berger sat down today for an interview with Andrew Coy, Executive Director of Baltimore's Digital Harbor Foundation. This two-year-old organization is converting aging rec centers in the Baltimore area in to "Tech Centers." These centers use technology to inspire Baltimore's youth to create and learn, especially in STEM fields of education.
Years ago, there were over a hundred Rec Centers in the Baltimore area. That number has been reduced to fewer than fifty, with more being scheduled to close every year. Adding some technology components to the mix makes the centers more relevant to today's students.
"The reason they're shutting them down is because they don't fit into the knowledge-based economy of today," Coy tells Dr. Berger. "A rec center was a great support and community center in a factory economy, but in a tech economy there are just some missing pieces. If we re-imagine a rec center into a 'Tech Center,' it becomes a place for youth and community members to explore new areas of interest."
Coy and Dr. Berger discuss daily life for the kids in the Tech Center, the kinds of projects that they undertake, and how this is an opportunity for them to embrace learning. DHF currently operates one Tech Center that has many rooms, two of which are designated the NanoLab and the MegaLab. The NanoLab is the home of DHF's younger programs, while the MegaLab is home of the Maker Foundations (Middle/High School) program. Future plans call for Tech Centers throughout the Baltimore area.
About the Core of Education
The Core of Education is an op-ed blog and podcast interview series hosted by Rod Berger, PsyD, and underwritten by RANDA Solutions. The Core focuses on vital issues to educators and policy-makers, as Dr. Berger interviews key education thought-leaders from across the nation and around the world. Core podcasts work to provide a platform for open, honest discussion and debate on education challenges and triumphs. Berger, interviews international policy makers, ed entrepreneurs, state commissioners, district admins, and teachers and strives to insure everyone involved has a platform to learn, and that's what's at the "Core of Education."