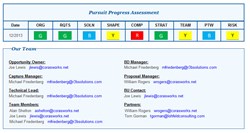 We are incorporating the proven Lohfeld process into CorasWorks software to create the first-ever integrated capture and proposal solution. This is a huge value add over other solutions in the market.
Edgewater, Md. and Reston, Va. (PRWEB) December 17, 2013
The Lohfeld Capture and Proposal Management WinCenter™ is based on the industry-leading Lohfeld capture and proposal management process. WinCenter™ allows Federal Government contractors of all sizes to plan and execute better capture campaigns, write more effective proposals, increase their new business win rate, and reduce their overall cost of acquiring new business.
"With declining government budgets as the new normal, Federal Government contractors need a way to enhance their competitiveness—affordably and practically," said Bob Lohfeld, CEO of Lohfeld Consulting Group. "By partnering with CorasWorks and leveraging their SharePoint-based platform, we're able to offer a single solution that integrates our practical capture and proposal process into actionable, manageable, tailorable, and measurable software."
The Lohfeld WinCenter™ is based on Lohfeld's proven five-phased capture and proposal management process that combines process, templates, instruction, just-in-time capture and proposal coaching, and training. The process is currently being used by many Federal Government contractors.
"WinCenter™ is a game changer," said William Rogers, Chief Workplace Architect at CorasWorks. "There are many 'vanilla' products and solutions in the market today that separately address capture and proposal management. Through this partnership with Lohfeld, we are now incorporating their proven process into our software to create the first-ever integrated capture and proposal solution that actually embeds and automates their best business practices and processes in a single tool. This is a huge value-add over the generic solutions."
In addition to combining process and software, other key features of the Lohfeld WinCenter™ include:

Integrated Capture and Proposal Management System – Integrates the two key elements of business development and provides a seamless process and transition from capture through proposal development, complete with "how to" narrative guidance for capture novices and experts, templates, and access to a single asset library.
Individual Homepage for each opportunity – All capture and proposal tasks, activities, action items, graphics, documents, artifacts, work products, color reviews, gate reviews, and reporting are available in and accessed through the WinCenter™. Significantly increases the team's efficiency and overall performance by providing a single place from which to work and communicate.
Increased Visibility, Consistency, and Accountability – High-level dashboard that displays capture and proposal progress for each new business opportunity and customized reporting ensures managers and executives have the information they need, in the format they need it, when they need it. Also ensures consistency in information capture and reporting.
Integration with External Systems – Seamlessly integrates with almost any external system or database, including Customer Relationship Management (CRM), Enterprise Resource Planning (ERP), and Human Resource (HR) systems.
Flexible and Customizable – Custom tailor the solution to address your specific requirements, and enhance and extend it to meet your evolving needs.
"The extremely high level of competition in this industry is driving Federal Government contractors to find ways to heighten their competitive advantage," said Rogers. "And we're now giving them an answer. Our solution provides a proven, winning structure to guide their activities, removes the inefficiencies inherent in the process, and helps remove much of the risk. These combine to provide a significant competitive advantage."
Those interested in learning more about the Lohfeld WinCenter™ can join a live webcast on Wednesday, January 22, 2014. Click here to register for the webcast.
About Lohfeld Consulting Group
Lohfeld Consulting Group specializes in helping government contractors win business in the civilian, Department of Defense (DoD), intelligence, and state and local government markets by providing expert assistance in Go-To-Market planning, pipeline development, capture and proposal process consulting, capture management, proposal management, writing, and review—all backed by professional training. For more information, visit http://www.LohfeldConsulting.com.
About CorasWorks
CorasWorks is a global leader in work management software and solutions on the Microsoft SharePoint platform. With our software, solutions, and professional services, organizations can deliver solutions in less time, at less cost, and with less risk than custom application development. Our customers span the commercial, Federal, Federal Contractor, and association/non-profit markets. CorasWorks is a Microsoft Gold Certified Partner headquartered in Reston, Virginia. For more information, visit http://www.CorasWorks.net.