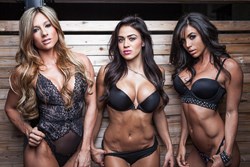 Some of my favorite pictures are in there and I can't wait for our fans to see what we have saved specifically for this calendar
Jersey City, NJ (PRWEB) December 30, 2013
SHREDZ® Supplements, the producer and distributor of all-natural, gluten-free fitness supplements, has announced the debut of the 2014 Alpha Female Calendar, a collection of the latest images of female athletes, captured by renowned fitness photographer, Ludwig Araujo. Araujo is the photographer responsible for some of Hathaway's most popular images on Instagram, Facebook, and fitness publications.
The 2014 Alpha Female calendar features the latest stunning images of fitness model Paige Hathaway, WBFF Pro Brittany Coutu, fitness model Ainsley Rodriguez, and CrossFit athlete Nikki Leonard shot exclusively by Ludwig Araujo. Each female athlete brings her signature style to the calendar, providing fans with 365 days of the fitness and beauty that the #SHREDZARMY has come to expect.
Hathaway says she is glad that the world will finally be getting the calendar that they have asked for.
"This calendar has been a long time in the making and it feels good that we finally got it out there for our fans and followers. It's taken a while because of the hard work that we put into it and I know this is the best calendar of the year. Some of my favorite pictures are in there and I can't wait for our fans to see what we have saved specifically for this calendar."
The 2014 Alpha Female calendar will be available for free with a purchase of either an Alpha Male or Alpha Female Stack, while supplies last! Alpha Male and Female Stacks can be purchased at http://www.shredz.com.
Follow #SHREDZARMY on Instagram and Twitter at @shredzarmy. Learn more about SHREDZ® Supplements by joining the #SHREDZARMY and becoming a part of the fastest growing brand in the fitness industry.
SHREDZ, the fastest growing name in health and wellness on social media, was founded in 2011 and is headquartered in Jersey City, N.J. The company is led by co-founder and Chief Executive Officer Arvin Lal. SHREDZ offers maximum strength nutraceuticals, including its flagship product, SHREDZ Maximum Strength Fat Burner. The entire product line is manufactured and warehoused in the United States and distributed throughout more than 50 countries. For more information, visit http://www.shredz.com.