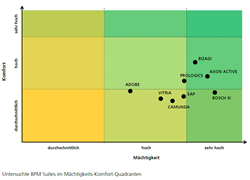 The best product in the test, 'Bizagi Enterprise Edition,' achieves an overall degree of fulfillment of 78%.
London, UK (PRWEB UK) 17 December 2013
Bizagi was recognized as the best product in Fraunhofer Institute's Market Analysis of BPM Suites.
Bizagi achieved an impressive score of 78% compared to the average of 67% from other products from SAP, Bosch and Adobe.
All products were assessed not just in terms of functionality but also for simplicity, scalability, integration capability, and usability.
You can read the report synopsis from the Fraunhofer Institute here and you can access the complete Market Analysis of BPM Suites (in German) here.