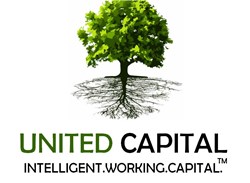 Saint Petersburg, FL (PRWEB) December 18, 2013
United Capital Funding Corp., the leading professional Accounts Receivable funding and AR management services based in the United States, today announced that it made a significant charitable contribution to support the Wounded Warrior Project, Inc.
Mark S. Mandula, Managing Partner of United Capital Funding Corp. noted that, "Due to the amazing efforts of one of our employees, Chris Gionet who spearheaded this effort, we were able to make this contribution to support the Wounded Warrior Project, Inc. In addition to donations from most of our employees, United Capital contributed a matching donation consistent with our long standing corporate commitment to worthy tax exempt nonprofit organizations."
Since starting serving clients in 1997, United Capital has contributed in excess of $400,000 in charitable donations to a wide range of local, regional and national nonprofit organizations. In addition to the Wounded Warrior Project, Inc., some of these have included the Society of St. Vincent de Paul, Tampa Bay Watch, CASA, Tampa Bay Research Institute, Inc., The Salvador Dali Museum, The Morean Arts Center, The Chihuly Collection, The Museum of Fine Arts, Police Athletic League, The Ronald McDonald House Charities of Tampa Bay, Heroes of the St. Peter Police, Derrick Brooks Charities, Community Service Foundation, Suncoast Hospice, Clothes to Kids, Inc., Wilderness Trail, The First tee of St. Petersburg, Alpha House , Red Cross Relief Fund and others.
The Wounded Warrior Foundation, Inc.'s mission is to honor and empower wounded warriors that have served our country. It has a 3 fold purpose: to raise awareness and enlist the public's aid for the needs of injured service members; to help injured service members aid and help each other; and to provide unique, direct programs and services to meet the needs of injured service members.
About United Capital Funding Corporation
United Capital Funding Corporation provides Intelligent Working Capital via factoring, credit insurance coverage and efficient Accounts Receivable management solutions to clients nationwide. These professional services allow clients to strengthen their cash flow, streamline internal operations and assist them in competing successfully in the current challenging economic environment. United recently announced that it exceeded $2 Billion in funded and managed relationships since its formation in 1997. Starting with a single Florida based client, United Capital Funding now serves clients in 29 states, and is based in Tampa Bay, Florida. United also has a regional offices in Nashville, Tennessee and Charlotte, North Carolina.
United Capital Funding is the fiscally savvy alternative for healthy companies in the staffing, government, manufacturing, service, distribution, technology and professional services sectors looking to profit from the flexibility and speed of partnering with a privately held, well capitalized source. A partnership with United Capital Funding Corp. results in a client gaining monetary as well as back room efficiencies to better compete in the current very competitive economic environment. Additional information on the specialized business financial services provided by United, including factoring, Accounts Receivable management, and working capital are available online at their website: http://www.ucfunding.com.