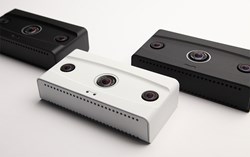 "Brickstream LIVE offers a great example of the kinds of technologies that will drive the future of retail," said Robert Scoble, founder of the popular technology blog Scobleizer, co-author of the book Age of Context.
Atlanta, GA (PRWEB) December 17, 2013
Brickstream, a leader in behavior intelligence solutions for environments where people shop, gather, work and play, today unveiled Brickstream LIVE™, the latest and most comprehensive addition to its Smart Device family of behavior analytics products. Brickstream LIVE is the first and only device to combine 3D customer behavior analytics, a high resolution video camera and wireless-based proximity data analytics within a single platform, freeing businesses from the burden and expense of deploying separate, multiple technologies for people counting, queue and behavior analysis, and security and loss prevention. Using Brickstream LIVE, businesses with brick and mortar locations (such as retail stores, grocery chains and banks), can capture and analyze highly accurate data about visitor behavior in order to improve operations, security and marketing.
"As a global integrator of technology solutions for retailers, we are really excited about Brickstream LIVE," said Kevin Searight, Director of IP Video and Security at Comm-Works, a Brickstream partner. "Because Brickstream LIVE combines capabilities for loss prevention and customer behavior analytics within a single, IP-enabled device, we won't need to install, configure and manage two separate technology systems for clients. And it's an especially attractive option for retailers with limited budgets, because they don't have to invest in and prioritize several technology deployments."
"Brickstream LIVE offers a great example of the kinds of technologies that will drive the future of retail," said Robert Scoble, founder of the popular technology blog Scobleizer, co-author of the book Age of Context, and startup liaison officer for Rackspace. "The next wave of innovations in customer service, in-store marketing and even activities like inventory management depends on an ability to capture and analyze many forms of data in a context that businesses can use to make better, faster and smarter decisions."
"The timing is right for technologies like Brickstream LIVE to hit the retailer market. Retailers need customer behavior data for store operations, loss prevention and marketing. This makes a multi-purpose device a much better buy than a single-purpose one," said Paula Rosenblum, Managing Partner, RSR Research. "In today's hypercompetitive world, retailers that can't gather accurate information about customer behavior in their largest and most profitable channel—the store—are at a big disadvantage."
In-store customer analytics are needed to drive new innovations in customer service, marketing and multi-channel retailing. The new Brickstream LIVE smart device is a universal data collection and analytic platform that combines:

3D stereo vision technology, also used in Brickstream's complete line of 3D smart devices, which uses two lenses rather than one to accurately and anonymously capture and analyze behavior data as people enter, move through and exit a physical environment (such as a retail outlet, grocery store, bank or event venue). Brickstream's behavior analytics technology is the most accurate in the industry—able to capture in-depth behavior intelligence about customers even when measuring high volumes of foot traffic, in dim or bright lighting, and regardless of whether devices are deployed indoors or out.
A high resolution surveillance video camera to provide security analytics identifying "wrong way" traffic, people running, tailgating into a secure facility, detection of unidentified/suspicious objects and sweethearting behaviors. The 5 megapixel HD camera has a hemispheric lens for wide angle viewing and supports de-warping of images and digital pan/tilt/zoom. The Brickstream LIVE device also supports dual 15 frame per second (fps) H.264 video streams at different resolutions and can store up to 30 days of video. Industry standard ONVIF™ compliance supports interfacing to existing VMS systems.
Support for smartphone Wi-Fi and Bluetooth® low energy (BLE) detection (such as iBeacon), which can be used to analyze location-based data that visitors can provide via their smartphones, or that is captured at displays fitted with BLE transmitters. This additional data allows Brickstream LIVE to provide analytics on repeat visitors, visitors to multiple locations and on dwell times and conversions at product displays.
"It's inefficient and expensive to maintain multiple standalone devices for collecting data in stores and other physical locations," said Steve Jeffery, CEO of Brickstream. "By combining multi-purpose capabilities and state-of-the-art technology within a single product, Brickstream LIVE makes it possible for brick-and-mortar businesses to gather all the information they need to maintain security, prevent loss, improve operations, enhance service and leverage customer behavior data to make more strategic decisions across the board."
In addition to behavior, security and proximity analytics, Brickstream LIVE can be extended to support other sources of in-store and location-based data. Brickstream LIVE includes a USB host port that can be used to expand data capture options, and additionally has 2 digital I/O ports that can be interfaced with building control systems and Electronic Article Surveillance (EAS).
The Brickstream BehaviorIQ® behavior intelligence platform and IQ application series further transform the intelligence captured by Brickstream LIVE analytics devices into an array of useful and actionable metrics and dashboards that managers can use to make better real-time business decisions relevant to staffing, service, and more, and to track metrics and trends over time.