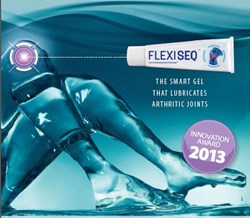 Since FLEXISEQ launched in 500 of our [LloydsPharmacy] stores we have seen an overwhelming response from our customers
London, United Kingdom (PRWEB UK) 18 December 2013
Demand for FLEXISEQ has soared since the UK charity launch of the gel, with both Arthritis Research UK online and participating LloydsPharmacy branches reporting overwhelming interest and orders from patients. The extension of availability to all of LloydsPharmacy stores will help patients get quicker access to FLEXISEQ and, importantly, good quality advice on how to use the product for best effect and economy.
Michael Earl, Chief Operating Officer of Pro Bono Bio, said: "The clinically proven physical mode of action and the lack of an active pharmaceutical ingredient means FLEXISEQ works and is safe."
A spokesperson for Arthritis Research UK said: "FLEXISEQ has driven a significant increase in visitor numbers to our website arthritisresearchuk.org as patients can buy the product there. It has quickly become a best seller."
Commenting on extending availability of FLEXISEQ to all LloydsPharmacy stores, Nitin Makadia, LloydsPharmacy pain expert and pharmacist, said: "Since FLEXISEQ launched in 500 of our stores we have seen an overwhelming response from our customers. Pain caused by osteoarthritis affects a significant number of people in the UK and we are pleased that this product is having a positive impact on people's lives. Due to the popular demand we have decided to extend the product's availability to all our pharmacies across the UK, meaning patients can exclusively buy FLEXISEQ at their nearest LloydsPharmacy."
Dr John Dickson, a specialist GP in osteoarthritis, said: "FLEXISEQ is drug-free and so should have none of the risks associated with many existing drug treatments. It is also unlikely to interfere with any medication the patient may be taking as it is targeted and has a physical action rather than a chemical one. FLEXISEQ is extremely safe and worth trying to see if it relieves the pain of their arthritis."
More information is available for patients from a dedicated FLEXISEQ info line on 0800 098 7011.
For Media Enquiries:
John Mayo
karen.frost(at)pbbio(dot)com
+44 (0)20 7291 5456
Michael Earl
lucy.parker(at)pbbio(dot)com
+44 (0)20 7291 5446
Or visit: http://www.probonobio.com and http://www.flexiseq.com
Notes for editors:
Sequessome Technology®
FLEXISEQ employs Pro Bono Bio's patented Sequessome Technology rather than an active pharmaceutical ingredient to target a root cause of the disease, relieving pain with comparable efficacy to celecoxib, a leading prescription drug used for treating OA pain. Sequessome Technology utilises nanostructures called Sequessome™ vesicles that cross the skin barrier after the gel's topical application and migrate through various tissues to the target joint. Once inside the joint, Sequessome vesicles accumulate on the damaged cartilage forming a lubricating layer.
This targeted, physical mode of action crucially means there are no drug-to-drug interactions with FLEXISEQ as it is not itself a drug and, as a result, it can be used by patients who may be taking a variety of medications for other diseases, without increasing their drug burden. FLEXISEQ is also a welcome option for patients considered 'at risk' from the more common side effects associated with NSAIDs for example, those with such conditions as high blood pressure, gastric disorders or asthma.
About Pro Bono Bio
Pro Bono Bio is an innovative healthcare and nano medical device company launched in 2011. Pro Bono Bio launched FLEXISEQ in Europe in 2012 and plans to launch two further new products for the treatment of inflammatory skin disorders in 2013/2014. These new products, ROSSOSEQ® and EXOSEQ™, are based on Sequessome Technology, the same technology that powers FLEXISEQ. Pro Bono Bio expects these to launch in Ireland in January 2014.
Pro Bono Bio has ambitious growth targets that will allow it to support a unique humanitarian mission. In 2012, it started that mission by supporting elderly (less well off) pilgrims from West Africa on the Hajj to Mecca, alleviating the joint pain caused by long periods of walking and kneeling. The support for the less wealthy Hajj pilgrims has continued in 2013 in Asia. Our Charity launch is a further example of our support for this mission.
Arthritis Research UK
Arthritis Research UK is dedicated to leading the fight against arthritis and committed to being at the forefront of international efforts to develop new treatments. As a charity needing to raise over £40 million each year to fund our work, we welcome the contribution Pro Bono Bio and Lloyds are making towards our work as we fight to find new approaches to treating pain in osteoarthritis.
About LloydsPharmacy
LloydsPharmacy has over 1500 pharmacies across the UK. These are based predominantly in community and health centre locations. The company employs over 17,000 staff and dispenses over 150 million prescription items annually. The LloydsPharmacy pain service is free and no appointment is necessary. The pharmacist will discuss symptoms, medication and lifestyle to help reduce pain such as joint, arthritic and back pain. The pharmacist will help to set personal pain management goals which will include recommendations such as advising on moderate exercise or adjusting a medicines routine to improve sleep patterns.