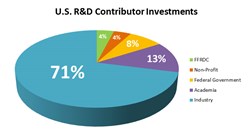 In part investment is due to company size and available resources, while the primary priority of how to invest funding is tied to internal goals.
(PRWEB) December 18, 2013
End of the year reports show that, overall, 2013 research and development (R&D) expenditures have stayed relatively flat over the year. In 2014, however, the R&D industry is forecasted to see some growth, although there is much discussion regarding the economic and government budget implication for the coming year. The expected growth is primarily indicated by a past increase and future expectation for private sector R&D spending.
In total R&D funding for 2014 is projected to increase 3.2 percent in the United States. This would make the gross annual spending amount $465 billion. The percentages below are from Battelle and R&D Magazine's report of projected spending according to "performer" type. Industry funding is by far the largest source of R&D funding at 71 percent, with academic research following second at only 13 percent.
Industry research is anticipated to increase by 3.8 percent next year to amount to greater than $330 billion. Within this, two industries of interest for 2014 are life sciences R&D and chemical materials. The life sciences Industry is expected to increase 2.2 percent in the coming year primarily due to biopharmaceutical innovation and medical device manufacturers. The chemical and advanced materials industry is projected to grow by 3.6 percent, continuing the steady growth from $10.7 billion in 2011 to an assumed $12.2 billion for 2014.
IBISWorld recently published a similar research report, emphasizing the impact and importance of privately funded research. The report, published December 8th, 2013 included a statement from Industry Analyst Jeremy Edwards who said, "Historically, government money has been devoted to basic research, or research without a specific goal, but private and corporate money is often devoted to experimental and developmental research that builds upon an existing idea that has already been developed by basic research." It went on to note an increase in corporate R&D investment over the last five years, stating that the desire to acquire a competitive edge is the source of this ramp up. Due to this, IBISWorld projects that private funding and competitive product oriented research will continue to increase the yearly industry revenue at an annualized rate of 3.8 percent over the next five years.
R&D Magazine projected that in 2014 two of the primary changes in funding would be growth in life science as well as chemical and advanced materials industries. While IBISWorld pointed to competition as the underlying motivation for investment, R&D Magazine's research acknowledged many factors as influention in R&D funding choices, noting that it varies greatly across individual chemical firms. In part investment is due to company size and available resources, while the primary priority of how to invest funding is tied to internal goals. The agenda for large, multinational firms relies primarily on developing materials for future use. Product focused firms perform research and development based on end-use, while small firms are commonly driven by customer demand.
A survey performed by Battelle and R&D Magazine revealed that 76% of firms in the chemical and advanced material sector place in-house development as their primary source of innovation. The survey also reported company's hierarchy of how they measure the success of R&D activities.
Domestic corporations noted publications as the number one measurement of success followed by patents, product quality, and productivity respectively. Multinational corporations, on the other hand, cited new products as their primary measurement followed by patents, profitability, and publications.
Avomeen Analytical Services reviewed all findings from Battelle and R&D Magazine's report as well as IBISWorld , specifically the claims that product focused, corporately funded research will be fundamental in changing the landscape of R&D investments. As an independent research facility, Avomeen's services are primarily used to investigate formulations and either improve upon products currently in the market or create brand new custom formulations for individuals and corporations. From their experience Avomeen affirmed that competitive product design to create new products, acquire patents and increase profitability is indeed the common core motivation for companies who come to them for research and design services. They also remarked that it makes sense to see an ongoing rise in the chemical and advanced materials industry as this feeds innovation across most industries, including consumer products. When asked his opinion on where industry R&D is headed, Shri Thanedar, Ph.D. of Avomeen Analytical Services said, "There will never be a time when research and development becomes unnecessary. What we do is fundamental for continued improvement to the quality and accessibility of pharmaceuticals, consumer products, medical devices and more. For this reason, no matter the economic downturns or global economy, research and design will continually have a strong investment base."
To read more about Avomeen's customized research and development services visit their website at http://www.avomeen.com. Or, call 900.830.5450 to speak with a Ph.D. consultant over the phone.