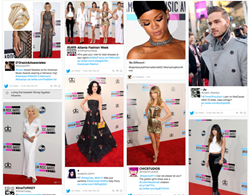 Toronto, ON (PRWEB) December 17, 2013
CoveritLive, a leading real-time engagement platform, today announced the release of the LiveContentWall, which gives brands, retailers and publishers new ways to organize and display live content related to products, breaking news, brand discussions or other real-time events. The company also announced EventDesigner, which provides CoveritLive producers and administrators with a quick and intuitive system for creating and configuring live experiences.
LiveContentWalls enhances the versatility of the CoveritLive platform, which already features capabilities for live blogging, social streams, live chat, Q&A sessions and second screen experiences. LiveContentWalls create a new and engaging format for consuming original, user and social content in real-time.
"LiveContentWalls have proven to be an engaging format for social content, and expand the ways in which audiences engage online in real-time," said Ben Schneider, Vice President and General Manager of CoveritLive. "With this new offering our customers can use Live Walls to curate social content and combine it with editorial and user content in novel, highly engaging formats. The EventDesigner abstracts away the complexity in mixing and presenting this content by allowing the quick creation of multiple experiences for any live event or stream and enabling the tailoring of these experiences for the site, platform and audience."
These new capabilities follow and build on CoveritLive EventStudio, introduced earlier this year, and a number of recent product enhancements in support of featured content, Q&A workflows, responsive layouts and live media galleries. With nearly 50 million live readers per-month, averaging over 40 minutes per-visit, CoveritLive's use has expanded from live event coverage of news and sports to include new forms of brand engagement, including expert chats, product Q&A and curated streams of social content from Twitter, Instagram and YouTube.
LiveContentWalls and EventDesigner are generally available and fully integrated into the latest release of CoveritLive. More details on the new release can be found on the CoveritLive blog.
About CoveritLive
Since its debut in 2007, CoveritLive has been used by thousands of bloggers, media organizations, major brands and agencies to engage millions of readers around the world in real-time. CoveritLive customers include USA Today, Fox Sports, Bild.de, Eurosport, NBA, NFL, Petco, and Yahoo. CoveritLive is owned by Demand Media, Inc. (NYSE: DMD), a leading digital media company that informs and entertains one of the internet's largest audiences. For more information about CoveritLive, please visit http://www.coveritlive.com.
LiveContentWall, EventDesigner and EventStudio have complementary roles:
● Use LiveContentWall to showcase social media feeds, create a Tweet Wall, visualize a hashtag campaign, or feature photo heavy content
● Use EventDesigner to configure unique content types to be displayed in wall layout
● Use EventStudio to power multiple experiences from the same event or stream