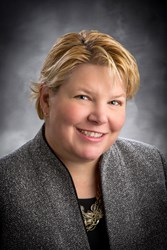 Patients and doctors alike are realizing how much good we can accomplish by focusing on patients' goals and discussing their wishes and fears for the future.
Newport News, VA (PRWEB) December 17, 2013
Riverside Health System is pleased to welcome Dr. Laura Cunnington as its new Medical Director for Palliative Care and Hospice Services.
"Palliative care is just starting to gain a foothold on the health care scene," Dr. Cunnington says. "Patients and doctors alike are realizing how much good we can accomplish by focusing on patients' goals and discussing their wishes and fears for the future. When one explains that palliative medicine is a discipline that seeks to minimize suffering and maximize quality of life, ultimately teaming with each patient to meet their own personal goals, it seems so simple."
Dr. Cunnington comes to Riverside from Wellmont Hospice/Advanced Illness Consultants in Bristol, Tenn., where she served as medical director. She attended medical school at the University of Nevada School of Medicine and completed her residency in family medicine in 2007 with the same program.
She is board certified in family medicine and in hospice and palliative medicine. She is very active nationally in the American Academy of Hospice and Palliative Care Medicine which is dedicate to improving the care of those with serious and advanced illness.
"Dr. Cunnington is a welcome addition to the Riverside Team and will be instrumental in helping us achieve the Riverside Care Difference vision and mission," said Dr. Kyle R. Allen, DO, Riverside Vice President of Clinical Integration and Medical Director for the Lifelong Health Division.
Dr. Cunnington will lead the inpatient palliative care consultation team at Riverside Regional Medical Center, and also lead Riverside's Compassionate Care Network, an array of services that focus on patient needs beginning with diagnosis and planning and continuing through treatment and end-of-life care.
"There are many misconceptions about palliative care," Dr. Cunnington says. "One of the most basic is the mistaken idea that it is the same as hospice care. Hospice care is aggressive symptom management related to comfort and dignity for patients with terminal illness, who are near the end of their life."
Palliative medicine, Dr. Cunnington explains, "is intense comfort and goal-focused interdisciplinary care for patients at any time during a terminal or complex, chronic illness. It does not have to be postponed until the patient has reached the 'end-stages' of illness, but can actually do a good bit more if introduced much earlier." Palliative medicine brings together doctors, chaplains, social workers, nurses and other professionals as a team to create an individualized plan for a patient. The palliative care team works with patients and their families to set goals for their medical care and manages symptoms throughout the course of an illness.
For people with certain types of cancer, palliative care has been shown to make them feel better and live longer when compared to patients who get standard treatment.
Dr. Cunnington says she sees the role of a palliative medicine doctor as a true "family" physician, caring for the patient as well as the family.
ABOUT RIVERSIDE HEALTH SYSTEM:
A regional leader in providing healthcare since 1918, Riverside Health System seeks to deliver care and services - as a team- by putting patients and residents at the center of all operations. Riverside delivers a variety of healthcare services and programs in the areas of prevention, acute care, aging-related services, rehabilitation, ambulatory care, diagnostic care, education, and home care.
The Riverside Health System operates five acute care hospitals, a psychiatric hospital, and the largest freestanding physical rehabilitation hospital in the Commonwealth of Virginia. Its extensive Medical Group includes more than 500 providers. Ambulatory centers bring diagnostic services, physical therapy, day surgery and other services to neighborhoods served by Riverside.
The company employs more than 9,000 team members in offices throughout Eastern Virginia.
For more information on Riverside Health System visit http://www.riversideonline.com. To schedule and interview with Dr. Cunnington, contact Peter Glagola, Director of Public Relations, at (757) 719-2103 or via email Peter(dot)glagola(at)rivhs(dot)com.