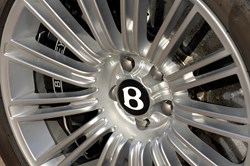 Alfa Romeo Mito - 4 times as far as a Bentley on 1 gallon.
(PRWEB UK) 17 December 2013
WeLoveAnyCar.com eco research conducted on 19th November 2013 found that over 90% of drivers think fuel prices will go up in 2014. Most say economy is the most important factor when considering a new car.
In response, the Manchester based site, with over 108,400 car reviews submitted by drivers, has developed a UK first to help drivers search by MPG figures claimed by car manufacturers. Their system reveals a surprise winner – the Alfa Romeo Mito – with a 97.4 MPG figure claimed by the maker more known for speed than efficiency.
Top 10 Most Economical New Cars
1 97.4 Alfa Romeo Mito 1.3 JTDM-2 85
2 97.4 Fiat Punto 1.3 Multijet 85 GBT
3 94.2 Hyundai I20 1.1 CRDi Blue
4 94.2 Kia Rio 1.1 CRDi 1 EcoDynamics
5 94.2 Skoda Fabia 1.2 TDI CR GreenLine II
6 94.2 Volkswagen Golf 1.6 TDI BlueMotion
7 91.1 Ford Fiesta 1.6 TDCi Titanium
8 91.1 Ford Focus 1.6 TDCi Edge ECOnetic
9 91.1 Seat Ibiza 1.2 TDI CR Ecomotive SE
10 91.1 Vauxhall Corsa 1.3 CDTi [95] ecoFLEX Design
All figures quoted are 'extra urban' MPG. Hybrid cars are excluded.
The Bentley Mulsanne claims just 24 MPG (extra urban) so the Alfa Mito can travel four times as far on one gallon of petrol.
The top of the range Bentley comes in at a hefty £237,710 retail price which means that you could buy 16 little Alfa Mitos, at £14,840.
WeLoveAnyCar.com spokesman said, "For the first time in the UK, a prospective buyer can research all the important factors in choosing a car, including price and economy. We also add driver ratings so motorists can look at other factors such as reliability, comfort and handy comments from other owners. The Bentley is neither 'eco' nor pocket friendly, but we supply the information - it's up to motorists to make their own decisions."