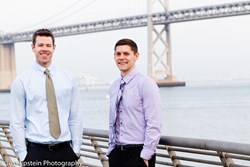 Dr. Jacobs and Dr. Gustin invite the San Francisco community to keep health and personal wellness at the top of their resolutions list for 2014.
San Francisco, CA (PRWEB) January 02, 2014
The New Year is a time for envisioning desired changes in life and setting resolutions to put those changes into motion. In 2014, Dr. Jacobs, Dr. Gustin, and the staff of SF Custom Chiropractic welcome the San Francisco community to embrace a healthier lifestyle that promotes personal wellness and decreases stress. To help do this, SF Custom Chiropractic will be holding weekly discussions on our Facebook page to share health tips and wellness strategies. Each week, participants will be added to a drawing for a free one-hour massage.
SF Custom Chiropractic will be opening its doors again in 2014 on January 6. Beginning that week, SF Custom Chiropractic will begin health discussions with the topic Active Exercises. "Many people include working out and exercise in their resolutions," explains Dr. Adam Jacobs, head treating doctor of SF Custom Chiropractic. "It is important to be pain free and to take care of past injuries in order to exercise properly and effectively."
In addition to chiropractic treatment, Dr. Jacobs and Dr. Gustin, head chiropractor at the Mission/Bernal Heights location, teach their patients the importance of proper ergonomics and posture, as well as different exercises and stretches to help prevent re-injury. They believe exercise is a huge part of health and refer to over 40 personal trainers in the Bay Area once their patients are out of pain. These trainers help patients focus on strength and flexibility to further increase health and well being.
Throughout the following weeks in January, health discussion topics will also include Everyday Ergonomics, Healthy Weight Week, and Planning to Stay Consistent. While it can be difficult to maintain resolutions for the entire year, it is important to construct realistic goals and an effective plan to achieve them. Dr. Jacobs' and Dr. Gustin's chiropractic care, in conjunction with the ideas generated from the community, can help construct a plan to help achieve an overall balance of health for 2014.
Participants of weekly discussions will be added to the pool for a one-hour massage. There will be one entry per participant per week. During the first week of February, one name will be pulled from each of the four pools. Winners will be notified immediately via phone or e-mail. If prize is not claimed in one week, another drawing will be held.
Based in the Financial District of San Francisco, SF Custom Chiropractic opened in January 2011. In July 2013, SF Custom Chiropractic opened its second location between the Bernal Heights and Mission District. Head treating doctor, Dr. Adam Jacobs received his doctorate from Palmer West College of Chiropractic. Dr. Anthony Gustin received both his doctorate and masters from University of Western States in Portland Oregon. Both Dr. Jacobs and Dr. Gustin are Certified Chiropractic Sports Practitioners. In addition to their doctorate degrees, Dr. Jacobs has his full body A.R.T.® Masters degree and long nerve entrapment certification and Dr. Gustin has received a Masters of Science in Exercise and Sports Science. SF Custom Chiropractic takes a holistic full body approach to fix underlying structural problems associated with back pain and many other musculoskeletal disorders. For more information, visit http://www.sfcustomchiro.com or follow us on Twitter @SFCustomChiro.