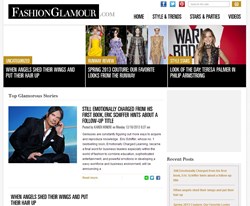 "This book will be about growth, how the same principles that govern success as leaders in the business world leads to success as leaders in our personal lives."
Los Angeles, CA (PRWEB) December 16, 2013
After the #1 bestseller "Emotionally Charged Learning" turned the business world on its head, moving over 300,000 copies in the process, the demand for a sequel was undeniable. Today, Eric Schiffer scheduled for the end of January the official unveiling of the cover and title of his newest book, which will take place in Los Angeles, according to FashionGlamour.com.
The frequently featured expert interviewed on Fox News, Bloomberg, BusinessWeek, and Inc. Magazine would not divulge too much. Schiffer, who has been working on the book for years, said in an interview with FashionGlamour.com. "This book will be about growth, how the same principles that govern success as leaders in the business world leads to success as leaders in our personal lives."
Even today you can still look on the nightstands of CEOs and MBA students alike to find Emotionally Charged Learning, which detailed a revolutionary management leadership discovery. Eric Schiffer detailed in the book how powerful emotions, sophisticated entertainment, and education can combine together in order to ensure organizational and personal excellence through a lasting knowledge transfer.
Eric Schiffer's foray into the written word began at the age of 10. The future mainstay of London, New York, and Los Angeles high society authored "Pumping Iron for Teenagers," prompting Ballantine Books to award a $10,000 payday to the entrepreneurial youngster. Over the course of several months, the young Schiffer placed phone call after phone call to Arnold Schwarzenegger, who finally asked his friend, Mr. Olympia, Franco Colombu, to pen a foreword for the book.
ABOUT ERIC SCHIFFER:
Eric Schiffer has founded two companies listed on Inc. Magazine's 500/5000 Fastest Growing Companies, and serves as a trusted advisor to multiple Fortune 500 CEOs, Presidents of Countries, foreign leaders, and Forbes 400 billionaires. He has been featured on the cover of the Saturday Evening Post and Entertainment Today; BusinessWeek named him alongside Richard Branson and Russell Simmons in their list of the Top Ten Entrepreneurs in the World; and he was prominently listed as a Top Bachelor in Cosmopolitan Magazine. He is Chairman and CEO of Patriarch Private Equity, sits on the Board of Directors of SocialMediaMarketing.com, and serves as a Member of the Advisory Board to SEOP.com and Reputation Management Consultants. Most of all he enjoys his charity work on behalf of the Clinton Health Access Initiative and Benevolent.net.
ABOUT FASHIONGLAMOUR.COM
More than a bridge between fashion aficionados and the expansive industry, Fashion Glamour brings a new perspective to the table that's often lost in an ocean of appliques, embroidery and platform heels. With editorial coverage that spans fast facts, relevant opinion and glossy banter, Fashion Glamour tells stories of a modern-day woman's daily sartorial highs and lows as she maneuvers life with style, poise and confidence – all while seamlessly adapting to the ever-changing tides of fashion.
RELATED LINKS:
http://www.facebook.com/realericschiffer
http://twitter.com/ericschiffer