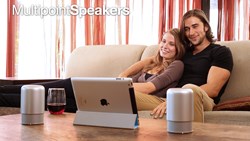 This thing would be right at home sitting next to the new Mac Pro.
San Francisco, CA (PRWEB) December 19, 2013
HIDDEN, a design driven manufacturer of consumer electronic devices, recently announced HiddenRadio2™ Wireless Speaker. And to say the response has been positive would be an understatement, raising over $300,000 on Kickstarter in just over a week and they still have 50 days to go!
The compliments and comparisons to Apple are also clear, Ben Dahl of Cool Material says, "This thing would be right at home sitting next to the new Mac Pro. The list of new functionality makes the industry-leading competition look like a bunch of knockoffs in the performance department. But even with all of that our favorite part is still probably the looks."
The HiddenRadio2™ is not just a pretty face. Under the hood it is the most advanced speaker of its kind. It features an automated protective cap that magically lifts to stream your favorite tunes wirelessly. You can even spread them around the house by way of their new MultiPoint™ Bluetooth technology which provides the ability to link speakers together, wirelessly of course.
An Orchestra of sound! The team at HIDDEN has truly redefined the way compact speakers are designed and of course how they sound. They have used a combination of their custom designed large and small Neodymium speakers that partner with custom software to deliver the most advanced audio in its class. "It's like the software is the conductor and directs bass notes to baritone saxophone and high end frequencies to the alto; this ensures that users hear the lowest of lows and the highest of highs," said John Van Den Nieuwenhuizen, Co-Founder of HIDDEN.
Pre orders are now open for the HiddenRadio2 at special limited-time pricing at http://www.kickstarter.com/projects/2107726947/hiddenradio2-bluetooth-multispeaker.
Key Features Include:

Timeless Design – To create an iconic design we have removed all unneeded details and left only the essential, with zero visual distractions. This way, everything is about the speaker, and therefore everything is about the music
Unbelievably Powerful, In A Compact Form – HIDDEN's proprietary neodymium dual speaker system combines large and small speaker drivers in perfect balance, creating deep bass, as well as stunning high frequencies. It plays every bass beat and violin stroke just as the artist intended
MultiPoint™ Bluetooth – HIDDEN's MultiPoint™ feature allows the user to link two HiddenRadio2's to one phone, iPad or computer. The speakers can be placed in different areas of the house to create a seamless wireless audio setup, or alongside the streaming device to deliver an incredible stereo experience, easier than ever before.
Magic Lift – A simple touch on the cap or hitting play on the phone; that's all it takes for the cap to magically lifts, and reveal the speaker hidden beneath. The HiddenRadio2 then begins to stream crystal clear music.
SmartControls – No need for the phone to be around anymore. Using the intelligent capacitive touch sensor the user can finally operate the music by simply tapping the cap; even to adjust the volume or activate Siri!
Noise Cancelling SpeakerPhone – If the user is receiving a phone call, with a simple touch on the cap the HiddenRadio2 turns into an incredible speakerphone.
NFC Sync – To pair an NFC-enabled phone all the user needs to do is to bring it close to the speaker's cap to instantly sync up wirelessly over Bluetooth, without the need of complicated menus or software.
The HiddenRadio2™ is available for a limited time through Kickstarter in the new Platinum Silver, High Gloss Black, Black Chrome, and on a new range of limited edition colors. Pre-orders are available at special discounted pricing, starting at $149.99.
About HIDDEN
HIDDEN, a design focused consumer electronics manufacturer. Co-founded by Australian and Brazilian industrial designers John Van Den Nieuwenhuizen and Vitor Santa Maria, HIDDEN creates simple products that are innovative, intuitive and create a positive impact in people's lives. Based in San Francisco, HIDDEN's first product, HiddenRadio, is now available online. For more information about HIDDEN, visit the company website, http://www.hiddenradiodesign.com.
For more information contact:
John Van Den Nieuwenhuizen, Co-Founder, HIDDEN
press(at)HiddenRadioDesign(dot)com
Follow HIDDEN on Twitter: http://twitter.com/hiddenradio.
Follow HIDDEN on Facebook: http://www.facebook.com/hiddenradiodesign.