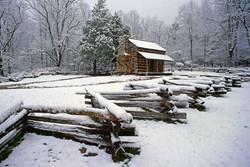 Whether visitors choose to hike or take a drive around the loop, we want everyone to enjoy Cade's Cove during this beautiful time of year.
Pigeon Forge, TN (PRWEB) December 16, 2013
Visitors to the Smokies will be pleased to hear they can still enjoy scenic views in colder weather without searching for open areas of the Smoky Mountain National Park. On December 9, Hearthside Cabin Rentals, the premier source for Gatlinburg and Pigeon Forge cabins, announced the top three things to do in Cades Cove this winter.
Topping the list for the Pigeon Forge cabin company is a visit to the Cades Cove Visitors Center. Kids and adults can warm up while learning about the exciting wildlife and nature inside the Great Smoky Mountains National Park. Here, visitors can learn about black bear and white-tailed deer and can have questions answered by a ranger. The interactive displays and exhibits inside are family friendly and hand-on. The Cades Cove Visitor Center hours are shortened in winter, from 9:00am to 4:30pm each day.
"Whether visitors choose to hike or take a drive around the loop, we want everyone to enjoy Cades Cove during this beautiful time of year," said a spokesperson for Hearthside Cabin Rentals. "It's important we let everyone know that Cades Cove is still an option for outdoor activities in winter."
Other winter-friendly things to do in Cades Cove included in the announcement are hiking and auto-touring. Cades cove is 6,800 acres, and inside are some of the most popular and majestic roads and hiking trails in the Smoky Mountains. Leading to waterfalls and old homesteads, the trails in Cades Cove are some of the best in the area. Those who would rather stay warm can see some of these sights from the loop road, which is open from sunrise to sunset all year long.
After an exciting day of exploring the unique things to do in Cades Cove, Hearthside Cabin Rentals is proud to provide visitors a relaxing Pigeon Forge cabin rental with comfortable amenities and a prime location. Here, guests can continue their adventure with scenic mountain views from a bubbling jacuzzi.
Hearthside Cabin Rentals and Property Management offers a variety of cabins in Gatlinburg, Pigeon Forge and Sevierville, Tenn. Hearthside Cabin Rentals has been family owned and operated, calling the Smoky Mountains home since 2003. Along with their 25 employees, owners Daniel and Janice McAllister work to ensure guests feel more like family than customers. All offices are located at 702 Wears Valley Road, Pigeon Forge, Tenn., and are open Monday- Friday 9 a.m.- 9 p.m. and Saturday-Sunday 9 a.m.- 8 p.m. For additional information, or to reserve a cabin, visit their website at http://www.hearthsidecabinrentals.com, or contact Hearthside Cabin Rentals by phone at 1(888) 993-7655.