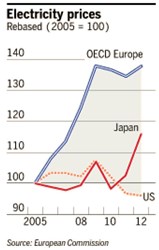 Carbon taxes are unnecessary. The sun is the main driver of climate change. Global warming stopped 16 years ago.
Calgary, Alberta, Canada (PRWEB) December 17, 2013
As people are shivering under unexpected blankets of snow across the the US and Canada, UK and Europe and even the Middle East, Friends of Science warn of heat-or-eat poverty as seen in Britain and rising energy prices due to climate change targets and carbon taxes.
"Carbon taxes are unnecessary," says Ken Gregory, research director of Friends of Science. "The sun is the main driver of climate change. Global warming stopped 16 years ago."
While the Obama administration and high profile environmental activists like Thomas Steyer continue to push for stringent climate change measures or carbon taxes in North America, Britain is backing off carbon taxes; as well either imposing or requesting voluntary price freezes from utility companies.
Utility suppliers report the threat of winter blackouts, say Friends of Science, citing several reports from the UK.
Npower's chief executive Paul Massara expressed concerns about low spare power-generation capacity as to whether the UK would "get through next winter" according to a Dec. 9, 2013 report.
"Renewables like wind and solar do not provide free energy," says Ken Gregory, director of Friends of Science. "Wind power can't replace conventional power plants; the grid loses reliable output of power."
According to a 2012 report entitled "Why is Wind Power So Expensive?" authored by Gordon Hughes and published by the Global Warming Policy Foundation, wind and solar power is 9 to 10 times more expensive than power from coal or natural gas and not reliable, especially in cold weather.
In the opinion of some with vested interests, the UK energy price freezes of the fall has led to a flight of equity investment capital "selling out the entire gas and electricity sector" (not only energy supply companies). Some are said to be moving funds to safer countries as reported by Liberum Capital to commentator Allister Heath in the October 14, 2013 edition of London, England's CityAM, Milibrands policies have damaged Britain's economy.
Some powerful investors, Hermes, Aviva Investors, Threadneedle, Schroders and the Methodist Church, are claiming uncertainty about carbon pricing has led to confusion stalling UK Investment.
According to the Global Warming Policy Foundation's summary of a Daily Telegraph report 09/12/13 ScottishPower Chief Keith Anderson reports that coal plants are becoming uneconomical due to the 'carbon floor price' (CFP).
Britain's spare power margin is forecast to fall to 2 per cent by 2015 due to pressure from EU climate change regulations and rising carbon taxes.
Though wind and natural gas plants were hoped to fill the gap, Bloomberg New Energy Finance is reporting on Dec. 16, 2013 that investment in these, particularly offshore wind, has reportedly stalled due to in part to new uncertainty in energy policies in the UK.
Globally, carbon taxes and climate change measures are rapidly losing popularity with politicians and the people.
Canada withdrew from Kyoto in 2011 and applauded Australia on its move to repeal its carbon tax as reported in the Guardian Nov. 13, 2012 theguardian.com/environment/2013/nov/13/canada-climate-australia-carbon-tax. At the Warsaw COP-19 climate conference in November Japan announced it will miss emissions targets as reported by Bloomberg Nov. 20, 2013 bloomberg.com/news/2013-11-15/japan-sets-new-emissions-target-in-setback-to-un-treaty-talks.html .
Friends of Science invite the public to join and become members. A gift CD of original Bob Erlendson jazz is offered now with every 3 year membership (void where not permitted). Memberships are available on-line. International applicants should only use PayPal or Credit Card.
About
Friends of Science have spent a decade reviewing a broad spectrum of literature on climate change and have concluded the sun is the main driver of climate change, not carbon dioxide (CO2). The core group of the Friends of Science is made up of retired earth and atmospheric scientists.
Contact:
Friends of Science Society
P.O.Box 23167, Connaught P.O.
Calgary, Alberta
Canada T2S 3B1
Toll-free Telephone: 1-888-789-9597
E-mail: contact(at)friendsofscience(dot)org