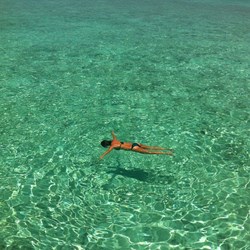 Lisbon is a must-visit city. Pleasant to the eye, incredible food and 5-star hotels for £100. Where else can you find that?
London, United Kingdom (PRWEB UK) 17 December 2013
The Maldives
These islands, located approximately 12h away from most European airport hubs, are possibly one of the most beautiful places in the world, according to Ana Silva O'Reilly. Having visited the islands in 2013, the blogger is planning a return visit in 2014. 'I think the word paradise was invented after someone went to the Maldives, stated Ms. O'Reilly, who was also surprised about how affordable the destination was. 'Package holidays from UK tour operators start from as little as £1500 per person, and that includes flights from London, transfers and meals in a luxury hotel. Most people think the Maldives are not affordable, so it was a very nice surprise'.
Lisbon, Portugal
Possibly one of Europe's most underrated cities, according to Ana Silva O'Reilly. 'I know I am biased as it is my hometown and I love it. I have not lived there for almost 5 years and it is always a pleasure to visit. Everyone I have sent there has loved it – and gone back'. The city of the 7 hills offers excellent value for money – and one can stay in 5-star luxury hotels from £100 per night, unheard of in other European capitals.
Palm Springs, California, USA
The California desert keeps reinventing itself and as a destination it makes foodies, golfers, shoppers and sunlovers happy. Ms O'Reilly stated 'I first went to Palm Springs 8 years ago by mistake, and have been going back ever since'. There have been significant hotel and gourmet restaurant openings, which make the destination much more appealing to travellers in their 30s and 40s.
Madrid, Spain
Madrid must boast half the number of visitors than its better known rival, Barcelona, but the secret must be out. A stunning city which is welcoming tourists with open arms, 'and very few countries do it as well as Spain. The Madrilenos appreciate good food and a good party, and the city offers interesting museums and incredible shopping opportunities. A win-win', says Ms. O'Reilly.
Lyon, France
Been to Paris? Of course you have, but what about France's second largest city, also known as the gastronomic capital of France? Lyon is one of France's best kept secrets – very pleasant to the eye, the city is bathed by 2 rivers and is very walkable. And you will need to walk of the delicious calories you will be packing on while in town. 'It could be the 'salad lyonnaise' (with bacon lardons and egg) or the crayfish gratin. All with a glass of great red wine, of course', suggests Ana Silva O'Reilly.
Ana Silva O'Reilly is a 30-something globe trotter who finds her peace and quiet on a long-haul business class flight to somewhere warm. Sand on her colourful toes and salt in her hair on a beach somewhere means happiness to her. With a nice piña colada in hand, of course. On a global quest for shoes, she's currently operating a strict one-in one-out policy, but never gives up. A city girl at heart, she moved to the quiet English countryside for love, and lives her travel dreams through her award-winning alter-ego and travel blog Mrs. O Around the World. She can also be serious, when she puts her international marketing and social media consulting skills or her MBA at work.