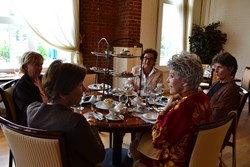 The February 8th tea will be a fundraiser for the Newport Public Library and all are invited.
Newport, Rhode Island (PRWEB) December 18, 2013
In celebration of the Season 4 of Downton Abbey, the PBS hit TV series which starts in January 2014, Hotel Viking will once again offer the special Gilded Age Tea in addition to their regular tea service, a tradition at the hotel since 2005. The Gilded Age Tea is available on Saturdays and Sundays from 2 p.m. until 4 p.m. from January 18th through until February 23, 2014 when the 4th season of the award-winning PBS drama ends. The Gilded Age Tea includes an assortment of freshly prepared tea sandwiches, assorted scones served with lemon curd, a selection of freshly baked tea breads, chocolate truffles and a glass of Kir Royale. Guests can sign up to win DVD's of the first three seasons of the award-winning, immensely popular PBS series created by Julian Fellows. To indulge in the Downton Abbey Tea Time, which is $15.95 per person not including tax or gratuity, call 401-848-4824 to make reservations.
"Hotel Viking has a long tradition of serving afternoon tea," stated Marlen Scalzi, Director of Sales and Marketing at Hotel Viking, "It was a brilliant suggestion from one of our guests to offer a Downton Abbey inspired tea service and it is a big hit with both locals and visitors."
The February 8th tea will be a fundraiser for the Newport Public Library and all are invited. For that Saturday, the cost will be $25 per person which includes a donation to the library.
Guests of Hotel Viking and of the tea service can sign up to win the DVD's of Downton Abbey's first three seasons. The winner will be announced on February 23, the last Sunday of the month. Downton Abbey is an award-winning British period drama on PBS. The TV series has almost 8 million viewers and features top actors including Shirley MacLaine, Maggie Smith, Hugh Bonneville, Dan Stevens, Elizabeth McGovern and many, many more. The third season started in January and ends on February 23, 2014. To learn more visit http://www.pbs.org/wgbh/masterpiece/downtonabbey/. Hotel Viking's Afternoon Tea is a long-standing tradition and is offered year-round.
# # #
About Hotel Viking
Hotel Viking is a historic hotel located in Newport, Rhode Island. Hotel Viking offers a total of 209 guest rooms and suites, and 13,400 square feet of event space, including two ballrooms. The award-winning One Bellevue Fine Dining & Seafood Restaurant offers indoor and patio dining, a seasonal roof top lounge, all-day lounge and a renowned Afternoon Tea held daily. SpaTerre features a selection of massage and skin treatments. Additional amenities include an indoor heated pool, fitness center and the historic Newport Kay Chapel. Hotel Viking is a 30-minute drive from TJ Green Airport (27 miles) in Providence and the Providence Train Station, and is driving distance from Boston (70 miles) and New York City (170 miles). For information, please contact Hotel Viking 401-847-3300 or visit online at http://www.hotelviking.com.