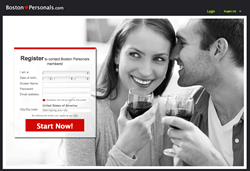 Working with Dating Factory has been an impressive experience.
Atlanta, GA (PRWEB) December 17, 2013
DatingFactory.com, the leader in online dating white labeling services, offers singles in the Boston area a place to easily connect with others who share a love of the historic town with the introduction of the new niche online dating site, BostonPersonals.com.
The city of Boston may be one of the best in the world for online dating. In 2012, The Daily Beast named Boston as one of the best cities for singles, citing a "well-being" score of 68%, indicating that the majority of Boston residents rate highly in social, emotional, and physical health. This coupled with an astounding number of college students condensed into such a relatively small area, online dating offers Bean Town singles a place to easily weed through the numerous potential daters. BostonPersonals.com does just that, by instantly connecting members with Dating Factory's thousands of niche daters in the Boston Area that share their specific interests.
"Working with Dating Factory has been an impressive experience," said Tyler Nichols, managing partner and founder of BostonPersonals.com. "The Dating Factory team really has it all together. All of the things that were missing from affiliate programs in the past, Dating Factory has in spades."
Dating Factory's fully customizable platform makes it easy for companies and online entrepreneurs to create and run their own online dating site. As a true online dating white-label platform, Dating Factory does not maintain their own brands. Instead, they focus on providing the back-end, customer database, technical, payment and marketing support affiliates and partners need to be successful.
About Dating Factory:
DatingFactory.com was established in 2009 and is an international white-label platform for online dating with over 30,000 affiliates and partners worldwide. The platform supports 22 languages, 58 niche markets, and has a large global data base of users. Dating Factory was named winners of the 2012 YNOT Award for "Best Dating Technology", the 2013 YNOT Award for "Best Adult Dating Company" and two 2013 iDate Awards for "Best New Technology" and "Best Dating Software."