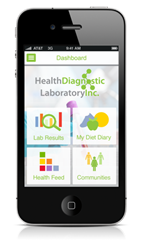 San Francisco, CA (PRWEB) December 18, 2013
Health Diagnostic Laboratory, Inc. (HDL, Inc.), a leader in health management that offers comprehensive lab testing and health consulting for cardiometabolic risk factors, has partnered with MedHelp, the leading provider of social and mobile health solutions, to create myHDL, a new mobile app that pairs lab results with health tools and social support to help patients more effectively improve their overall health. myHDL is a free app available on the iTunes App Store and Google Play.
HDL, Inc. offers advanced laboratory testing to identify and reduce patients' risk of heart disease, diabetes and related cardiometabolic conditions. Paired with follow-up lifestyle modification coaching from HDL, Inc.'s expert Clinical Health Consultants, this service helps consumers make lifestyle changes to lower their risk profile.
With the creation of the new myHDL mobile app, powered by MedHelp through its enterprise health platform, Red Urchin, users can view their lab results within the app and quickly understand their individual risk factors. In addition, the app provides a variety of social and mobile functionalities to enable users to track their health, call and ask questions to clinical health consultants directly from within the app, and get support from a peer community.
The myHDL app allows users to collect personal data (activity, sleep, weight and blood pressure) through the health device of their choice (such as Withings and Fitbit) and sync the data directly to the app. Users can also track their food, exercise and weight through integration with MedHelp's popular diet app My Diet Diary and take pictures of their food with MedHelp's Pic Healthy mobile app. Through the Red Urchin platform, all information tracked through the health devices and mobile apps is pulled into HDL, Inc.'s patient portal. This allows the consultants to better understand users' behaviors, track users' progress, and personalize their advice so that coaching sessions become more meaningful and effective.
The myHDL app also gives users access to MedHelp's support communities where 14 million monthly users exchange advice on diet, fitness, weight loss, heart disease, diabetes and other health concerns.
"With HDL's advanced lab testing and MedHelp's Red Urchin health technology platform, this partnership gives users the information, tools, coaching and support they need to avert some of the most common and costly chronic diseases," said John de Souza, MedHelp's president and CEO. "We are excited to work with HDL to create the best mobile solution to engage consumers in their health and effect meaningful behavior change."
"We have always said that HDL is a health management company with advanced lab services, and having a tool for our tech-savvy patients to engage in their own health was an important tool for us to offer as part of our mission," said Tonya Mallory, President and CEO of HDL, Inc. "We encourage our patients to get the app, review their results, track their fitness and diet, and use myHDL to help maintain a healthy, long-lasting lifestyle."
The myHDL mobile app is due for full-scale launch in early 2014.
About MedHelp:
MedHelp is the world's largest online health community and consumer health platform, empowering 14 million unique users per month to better understand and better manage their health. MedHelp is powered by Red Urchin, an enterprise health platform that provides mobile, social and data solutions to leading employers, retail pharmacies and health plans to improve consumer engagement and achieve meaningful behavior change. For more information, visit http://www.medhelp.org and http://www.redurchin.com.
About Health Diagnostic Laboratory, Inc.:
Health Diagnostic Laboratory, Inc. (HDL, Inc.) is a leader in health management offering a comprehensive test menu of biomarkers of risk factors for cardiovascular disease, diabetes, and related diseases. HDL, Inc.'s systematic approach identifies factors contributing to disease and provides a basis for effective treatment, allowing physicians to more effectively manage patients. Individuals receive a personalized overview of their risk factors along with intensive counseling from expert Clinical Health Consultants at no additional cost, improving compliance and enhancing satisfaction. HDL, Inc. is a CLIA-certified, CAP-accredited laboratory. For more information, visit myHDL.com, and make HDL, Inc. part of your digital lifestyle at Facebook.com/myHDL and Twitter.com/hdltweets.
Media Contact
Brittany Doohan
MedHelp
brittany(dot)doohan(at)medhelp(dot)org
(415) 882.4600
###