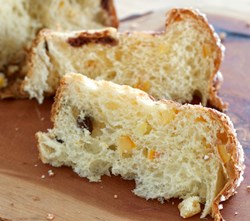 (PRWEB) December 23, 2013
Last minute shoppers still have time to purchase exclusive gifts of panettone for delivery by Christmas. The flavorful and rich Italian sweetbread is in stock at the Gourmet Italian food store, conveniently pre-wrapped and ready to ship directly to friends and family.
Panettone, also known as panettoni, originated out of Milan in northern Italy, and is served with espresso, amaretto, or fine wine. Dating back to the Middle Ages, tradition states that the head of the family slices the bread for all family and guests, and reserves a single slice for the following year. This imported treat is a seasonal luxury food item—only made in September and October of each year—and shipped for Christmas delivery. The limited production season means that once the item is out-of-stock it cannot be purchased again until the following season.
There are a variety of panettone flavors crafted in Italy and the Gourmet Italian food store stocks many of the available options. The premier brand is Flamigni panettone, made with 100 year old mother yeast. The bread is traditionally prepared with candied orange, citron, lemon zest, and raisins; however, there are many additional options for people with selective tastes from a variety of Italian brands, including:

Flamigni Cherry and Chocolate Panettone
Flamigni Orange and Chocolate Panettone
Maina Chocolate Panettone with Mascarpone and Chocolate Drops
Sidari Tropical Fruit Panettone
Sidari Tiramisu Panettone
Gourmet Italian offers many one-of-a-kind and hard to find items for people with a love of Italian food, or who need a professional gift of quality for a business associate. Additional gift ideas for lovers of fine cooking or for Italian family and friends include high-quality balsamic vinegar aged for 50 years, as well as truly exceptional 100 year old balsamic vinegar.
The quality food imports above and many more can be purchased at the Gourmet Italian food store. See the Gourmet Italian website for details on delivery by Christmas. Additional information on panettone is also from the Gourmet Italian Panettone Facebook page.
Wholesale Food Network LLC operates out of Youngstown, Ohio, and has been doing business under the "Gourmet Italian" name since January 2009. For more information on any of their products, please visit the Gourmet Italian food website.