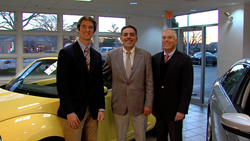 It's always been Volkswagen. - Brad Tracy
Hyannis, MA (PRWEB) December 19, 2013
Bradford W. (Brad) Tracy, owner of Tracy Volkswagen, has announced that the longtime, family-owned automobile dealers have sold the Audi portion of its dealership to Audi Cape Cod a Premier Company, located at 270 North St.(508)815-5600, http://www.audicapecod.com. The sale, which comes about as a result of changes required by the manufacturers of Audi, allows Tracy Volkswagen to return to its roots. As Brad recently said, "It's always been Volkswagen."
Tracy Volkswagen was first opened in 1968 on Route 132 in Hyannis by Albert E. Tracy, Brad's grandfather, and Jay H. Tracy, Brad's father, at what had been Mitchell Motors, Inc. Brad joined the company in 1988 and assumed ownership from his father in 2006. Brad's son Matthew is now also a part of the team when he's home from school in the summer months, making Tracy Volkswagen a unique, three-generation business.
When the dealership first opened, it was one of just a few businesses in the area. "People came over here just to see us," says Brad. The Cape Cod Mall opened across the street in 1970, and the Hyannis thoroughfare is now the Cape's primary commercial corridor.
In 1989, Tracy introduced the Audi brand to its dealership, and the name was changed to Tracy Volkswagen/Audi. "We've really enjoyed the Audi brand, and we've come a long way with it, but we just don't have the facility to meet their recent requirements," says Brad Tracy, adding that the change has the company "looking forward to making Volkswagen stronger at our same location."
There are some minor structural modifications on the horizon for Tracy Volkswagen, but the Tracy family and many of its longtime crew will continue to offer the community the same exceptional level of sales and service for which they've been heralded for more than 45 years. Looking ahead with an eye on technology, Tracy will soon offer the Volkswagen mobile app. From sales to service, this app's extensive package of functions and information will make our customers' experience as pleasant and efficient as possible.