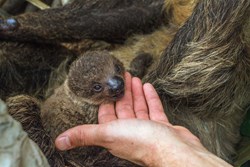 "Our team is thrilled to welcome another baby sloth to our Rain Forest habitat," said Ken Howell, National Aquarium Curator - Upland Tropical Rain Forest
Baltimore, Maryland (PRWEB) December 16, 2013
National Aquarium has announced today the birth of Scout, a Linne's two-toed sloth born on November 17, 2013. The newest addition to the Upland Tropical Rain Forest and the second born to Ivy, one of the five sloths in the exhibit, Scout is the fourth sloth born at National Aquarium.
To celebrate the birth of Scout, National Aquarium has set up a baby registry at http://www.aqua.org/babysloth and is asking the public to shower the sloth with gifts. The public can make a donation through the website to help purchase such items as vegetables and fruit, micro-chipping and the baby's monthly checkup. These items, priced from $10-100, are essential to the care and survival of Scout.
National Aquarium has also included photo and video galleries with the registry, which are being updated as the baby grows and starts to explore the Upland Tropical Rain Forest exhibit.
"Our team is thrilled to welcome another baby sloth to our Rain Forest habitat," said Ken Howell, National Aquarium Curator - Upland Tropical Rain Forest. "It is an honor to work with these incredible animals and inspire our guests to learn more about the ways they can protect them. All donations are greatly appreciated to help care for this not-so-little one."
Sloths have been an ongoing part of the animal collection at National Aquarium. The two oldest sloths currently living in the rain forest, Syd and Ivy, were acquired in May 2007 from a private captive breeder in South Florida. Howie and Xeno were born at National Aquarium in 2008 and 2010, respectively. And most recently, Camden, was born at National Aquarium in 2012.
Linne's two-toed sloths are commonly found in South America's rain forests, where they spend almost their entire lives in the trees. They are nocturnal by nature, fairly active at night while spending most of the day sleeping. Adult sloths are typically the size of a small dog, approximately 24-30 inches in length and about 12–20 pounds in weight.
The Linne's two-toed sloth is currently not threatened however other species of sloth, such as the maned three-toed sloth and pygmy three-toed sloth are endangered. The sloths at National Aquarium help to inform people of the plight of all sloths from threats such as habitat loss and fragmentation of forests as well as to inspire conservation, protection and welfare of these and other animals. Forest fragmentation forces sloths to come to the ground to travel to additional food trees. On the ground, they become easy prey for dogs and humans. Additionally, many sloths are either killed or injured when trying to cross roadways, others are electrocuted by overhead electrical lines.
National Aquarium
National Aquarium is a nonprofit organization whose mission is to inspire conservation of the world's aquatic treasures. It champions environmental initiatives by engaging with visitors, volunteers, education groups and schools to actively participate in the preservation of the world's natural resources and living systems. National Aquarium delivers meaningful experiences through its living collections; science-based education programs and hands-on experiences in the field from the Chesapeake Bay to Costa Rica; and partnerships and alliances with like-minded organizations around the world. For more information on National Aquarium, visit http://www.aqua.org.