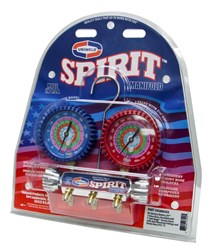 Quality Tools That Go To Work With You!®
Fort Lauderdale, Florida (PRWEB) December 17, 2013
The construction and durability of this new addition to Uniweld's fantastic product line, proudly emphasizes the quality and the superior workmanship that signifies truly exceptional, American-made, flame tools and flame tool accessories.
The Spirit Manifold is comprised of a lightweight, extruded aluminum body and easy-to-grip handles for positive control, a double O-ring piston valve for long reliable service, and easy access front hose holder. Additionally, the Spirit Manifold has large, easy-to-read 3-1/8" steel case NPF™ gauges with color-coded protective boots as well as a 3', 5', or 6' High Pressure Soft Magic® Barrier Hose set with optional Anti-blowback or Enviro-ball valve fittings.
Uniweld's Spirit Manifold is built to last and packaged with several different hose options, suitable for a number of applications. Uniweld's team of engineers conceptualized the design of the Spirit Manifold with the users in mind, thus creating a manifold that is practical and sure to impress.
Key Features:
•Color Coded Gauge Boots
•Front Access Zero Pointer Reset
•2-valve Aluminum Body
•3 1/8" NPF® Gauges
•Color Coded Dials
•Easy-Grip Aluminum Handle
•R-410a, R-22, R-404a, R-134a, Spirit Replacement Gauges

#G429ND Red, Pressure
#G430ND Blue, Compound
Contact a Uniweld distributor for more details and pricing.