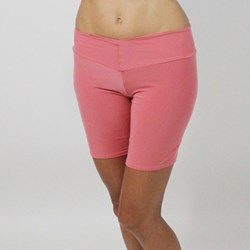 "I'm excited to offer this brand new line to customers. These are made for the modest woman who wants a little extra coverage and all-day chafe protection. It's the perfect solution to every woman's 'chub rub' problem!"
Kingwood, TX (PRWEB) December 18, 2013
Undersummers by CarrieRae is pleased to introduce the new 24/7 line, which includes a brand new Shortlette, Crop Legging & Legging rash guard base layers and matching camisoles for women.
Made with a signature wide-band feminine v-shaped waist and seams in the back for a smoother front (yet sexy back), the new 24/7 Shortlette is the shortest style available. This rash guard panty short is made with ultra-soft, comfortable fabric and can be worn under dresses, skirts and shorts (and is perfect to wear as athletic wear alone).
The new 24/7 Crop Leggings & Leggings will be available for women who want long underwear-style base layers. The 24/7 line will be available in women's and plus sizes, and will come in brand new colors – turquoise, silver and coral. The new turquoise, silver and coral color options are also now available for the Lace Shortlettes & Camisoles.
"The 24/7 line was created in response to customer feedback – many fans of the original Shortlette were asking for a shorter style Shortlette as well as leggings that could be worn 24/7," says Carrie Adorna, creator of the Shortlette and founder of CarrieRae LLC. "I'm excited to offer this brand new line to customers. Just like the other lines available, these are made for the modest woman who wants a little extra coverage and all-day chafe protection. It's the perfect solution to every woman's 'chub rub' problem!"
About Shortlettes
Shortlettes are comfortable rash guard panty shorts for women to wear under dresses available in plus, petite, and women's sizes. The Shortlette's unique design provides a solution for women treat the common problem of "chub rub". Women have treated this hush-hush issue behind closed doors with solutions such as bike shorts, anti-chafing balms, hosiery, pettipants, shape wear and other products. Shortlettes are designed with a "Stay Put Leg" made to never pinch, squeeze, constrict or roll.
Shortlette features:

3 feminine styles (Original Lace, Classic, 24/7)
Unique patented lace design
Seamless inner thigh & longer leg for maximum chafe protection
Panty liner
Ultra soft lightweight poly/spandex fabric
Easy care - machine wash cold/line dry
Available in a wide variety of colors and prints
Sized XS (0) to 6X (30)
The new 24/7 line can be purchased at Undersummers.com, Sears.com and Kmart.com.
About CarrieRae LLC
CarrieRae LLC is a woman/minority owned business located and operating out of Kingwood, TX committed to making women feel as beautiful as they look. All products are made in the USA. For more information, visit http://www.undersummers.com. Like us on Facebook at undersummers.