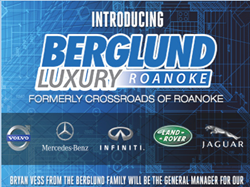 This market is our hometown and our family feels fortunate to be a part of it and always has
Roanoke, Virginia (PRWEB) January 07, 2014
Berglund Automotive has expanded into the Roanoke and Lynchburg's import market by opening a luxury auto dealership that offers new vehicles including BMW, Mercedes-Benz, Infinity, Volvo, Jaguar, Land Rover and Lincoln, as well as pre-owned vehicles.
Berglund Luxury Auto: Roanoke - 220 South Roanoke and Lynchburg - 2643 Lakeside Drive, Lynchburg, VA 24501
Berglund has operated 10 dealerships, representing over 20 brands and employing over 600 people in Virginia. The brand extension and geographical location seemed like a natural fit to William Farrell, President of Berglund Automotive, "We're excited about adding this new location and line of luxury import cars to our already robust offering in SW Virginia. This market is our hometown and our family feels fortunate to be a part of it and always has. This expansion of our company is designed to increase our selection and keep our focus on this market."
April 2013, nearly *400,000 new luxury vehicles were sold just in the first quarter and according to Kelley Blue Book that's an all time high since 2007. According to CNBC, BMW sales nationally are up **45%. This year appears to be a good one for having purchased the dealership since BMW sales are up 23% annually while Volvo is up 15%.
For more information contact Samantha Steidle at Sam(at)VirtualMarketingVa(dot)com or call 540-397-4377.
*Luxury Car Market Hits Six-Year High by Jenny Strieter, April 2013 http://usnews.rankingsandreviews.com/cars-trucks/best-cars-blog/2013/04/Luxury_Car_Market_Hits_Six-Year_High/
**Luxury auto market sizzles in August by Philip LeBeau, September 2013 http://www.cnbc.com/id/101011017
**Luxury auto sales jump 31.5% in August by CNBC, September 2013 http://video.cnbc.com/gallery/?video=3000197015