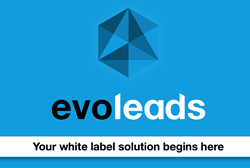 This special offer aims to give all migrating affiliate marketers an opportunity to try out a cutting-edge product at zero cost.
Montreal, QC (PRWEB) December 17, 2013
EvoLeads announces a migration program dedicated to affiliate marketers migrating from other alternative online marketing performance tracking platforms. Until January 31st, 2014, any new migrated subscribers to EvoLeads' Software-as-a-Service (SaaS) platform will be exempt from paying for the first 2 months of the subscription fee.
EvoLeads' SaaS tracking solution helps CPA networks and online advertisers to significantly improve their efficiency. The software's functionality and interface are conveniently designed so affiliate marketers could focus on managing their accounts, instead of worrying about the organization of information and logistics. In-time performance reports and analytics are delivered to users, which provide insightful information regarding their on-going online marketing campaigns. This allows that subscribers to make immediate adjustments to increase their return on investments.
With the migration program, new migrated subscribers will enjoy an exemption for their first 2-months subscription fee. After the trial period, the monthly fee will be only $499, much lower than the industry average. In addition, users are allowed unlimited clicks, enabling full scalability at no marginal cost. Certain migration fees may apply depending on the subscribers' demands.
EvoLeads is dedicated to providing the best cost-effective and functionally superior performance tracking solution. This special offer aims to give all migrating affiliate marketers an opportunity to try out a cutting-edge product at zero cost. Subscribers are not liable to any long-term contract for this promotion – the subscription can be terminated at any time.
For an initial glimpse of EvoLeads' tracking solution, readers can download an introduction guide at http://evoleads.com/info.pdf. For more details or to request a demo, contact Elias Lazaris at elias(at)evoleads(dot)com, or +1-855-EVO-LEAD (386-5323).
About EvoLeads
EvoLeads is a Montreal-based affiliate marketing company. Aiming to revolutionize the affiliate market, the company provides a cutting-edge and cost-effective SaaS-based online marketing tracking solution. In addition, the company also offers an Evo Marketplace platform, a community where various CPA networks are inter-connected so advertisers and publishers have greater accessibility to their counterparts. As a young company, EvoLeads constantly seeks out to innovations in products and services.