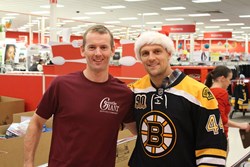 We feel like Santa when we pull up to the hospitals in our toy-filled purple Gentle Giant trucks!
Boston, MA (PRWEB) December 19, 2013
This holiday season, Gentle Giant Moving Company will again join the entire Boston Bruins roster for the Boston Bruins annual Holiday Toy Shopping. The first part of this year's event took place at the Target in Everett, MA on Tuesday, December 3rd in which Bruin's players purchased toys from wish lists of children spending the holidays in local hospitals.
The toys purchased at the Holiday Toy Shopping event will be delivered by Gentle Giant Moving Company and Bruins players to hospitals and charities around Boston and given as gifts to over 600 children who are unable to celebrate the holidays at home. Bruins Hall of Famer Ray Bourque started the holiday toy shopping and delivery tradition when he was captain, and the event has continued through the years. Bruins Alternate Captain Patrice Bergeron will spearhead the Bruins Toy Shopping and Delivery for the fourth year. This is the third year in which Gentle Giant has provided transportation, storage, and delivery of the gifts.
The organizations receiving this year's toy donations include Boston Children's Hospital, Floating Hospital for Children at Tufts Medical Center, Mass General Hospital for Children, Shriners Hospital for Children, Franciscan Hospital for Children, Spaulding Rehabilitation Hospital, Toys for Tots Malden Campaign, and Housing Families of Malden.
"Gentle Giant is so proud to be working with the Boston Bruins again on this wonderful Holiday Toy Drive," explains Gentle Giant Founder & CEO Larry O'Toole. "We feel like Santa when we pull up to the hospitals in our toy-filled purple Gentle Giant trucks!"
The toy delivery will take place on Friday, December 20th around Boston.
About Gentle Giant Moving Company, Inc.
Founded in 1980, Boston-based moving company Gentle Giant is an award winning residential and commercial mover, offering local moving, long distance moving, and international moving services. Named 2009 Independent Mover of the Year by the American Moving and Storage Association, one of the Boston Business Journal's Best Places to Work in Massachusetts in 2004, 2005, and 2006, winner of the 2006 International Torch Award for Marketplace Ethics by the Better Business Bureau, winner of the Better Business Bureau's Torch Award for Excellence in 2002, 2003, 2005 and 2008, nine-time winner of Boston Magazine's "Best of Boston," six-time winner of The Improper Bostonian's "Boston's Best Moving Company" award, twelve-time winner of the Angie's List "Super Service" Award, 2007 Top Small Workplaces award from the Wall Street Journal and Winning Workplaces, and named a Healthiest Employer in 2013 by the Boston Business Journal, the company's services include craning, piano moving, complete packing and unpacking services, and other related services. Gentle Giant offers storage facilities and dispatches crews from more than 19 offices in California, Chicago, Massachusetts, New Hampshire, New York, North Carolina, Rhode Island, Virginia, Washington, DC and Washington State. For more information, please call (617) 661-3333 or visit .