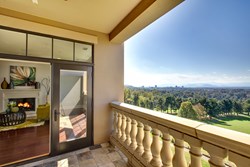 Asheville, North Carolina (PRWEB) December 17, 2013
As December comes to an end, The Fitzgerald can reflect on an exceptionally successful year. Closing 9 residences since May brings the total to an impressive 10 sales in 2013 to date, comprising over $11 million dollars in sales for the year. And it's no great wonder if one considers how The Fitzgerald has created, with its 24 residences, an intimate and relaxed atmosphere that fits so well in Asheville and offers all the amenities one could desire. Boasting panoramic views of the Blue Ridge Mountains and downtown Asheville, this last remaining top-floor residence features three bedrooms, three baths, with gourmet kitchen, private balcony, 10-foot ceilings, and custom craftsmanship throughout. With all The Fitzgerald has to offer, this residence certainly will not be available much longer.
As we all know, one of Asheville's unique charms is its support of local nonprofits and the arts. The Fitzgerald appreciates this, and has supported valuable organizations such as the Asheville Art Museum, Asheville Symphony, Asheville Lyric Opera, Mission Foundation, and the Asheville Humane Society throughout the course of the year. And as the holiday season approaches, we are all reminded of the importance of giving back and helping those less fortunate than ourselves. This season, The Fitzgerald is proud to support MANNA FoodBank, an impressive organization that works with over 200 partner agencies in 16 counties in Western North Carolina to help thousands of those in need each year. MANNA has recently released their annual Wintry Mix CD, featuring a range of celebrated local artists. The CD is available for purchase at Mast General Store and all proceeds will be donated directly to MANNA FoodBank. Please join The Fitzgerald in supporting MANNA, by way of donations or through the purchase of the Wintry Mix CD.
The Fitzgerald at Grove Park…
Luxurious amenities. Comfortable atmosphere. The Fitzgerald at Grove Park offers the best of all worlds, and sits nestled in the Blue Ridge Mountains overlooking downtown Asheville. A choice of Community Membership programs are offered to Fitzgerald owners by The Omni Grove Park Inn, with world class amenities right on your doorstep.
Don't let the opportunity of easy living in one of the country's most beautiful resort locations pass you by. Contact Marcella Dean, Managing Broker, at (828)-251-1140 for more information and to tour the last remaining residence.
This press release was provided by Element-360, an Asheville based online marketing agency responsible for The Fitzgerald at Grove Park online marketing campaign.