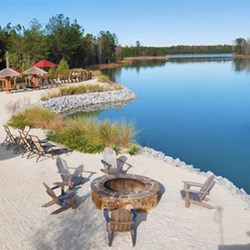 Best Community, 151 Homes and Over by the National Association of Homebuilders and Professional Builder Magazine
Bluffton, SC (PRWEB) December 17, 2013
The Model Park is located on Fish Dancer Court in close proximity to the award winning Lakeside Amenity Village. The homes will be constructed by four of the community's hand-selected custom builders: Arthur Rutenberg, Coastal Signature Homes, David Weekley Custom Classics and Southern Coastal Homes.
One of the model homes is currently under construction, with two more slated to break ground in January. Officials foresee the Model Park grand opening in the summer of 2014. The collection of homes will range in size from 2,400 to 3,500+ square feet and will start in the upper $500,000s.
To date in 2013, the community has 167 sales, 58 homes currently under construction and an additional 48 have already been completed.
Hampton Lake is a Reed Group community and is located off of Bluffton Parkway. Homesites are priced from the mid-$60s while waterfront homesites are priced from the low $120s. Home/homesite packages are priced from the high-$300 to $900+. For more information on Hampton Lake, go to http://www.hamptonlake.com.
About Hampton Lake
Construction on Hampton Lake began in 2006. Since that time, it has grown into a flourishing, family-friendly community complete with a 165-acre freshwater lake, pools, clubhouse, workout facility, spa, dog park and boating facility. In 2008 and 2009 respectively, it was named "Best Community Facility, 151 Homes and Over" and "Best Community, 151 Homes and Over" by the National Association of Homebuilders and Professional Builder Magazine.
About Reed Group
With more than 40 years in business, Reed Group is a diversified real estate company managing the planning, development, operation, marketing and sales of master planned communities and their amenities throughout the Hilton Head Island / Bluffton, South Carolina area. The company's five flagship communities – Colleton River, Belfair, Berkeley Hall, Hampton Hall and Hampton Lake – encompass more than 5,200 acres. The Reed Group's RG Materials and RG Realty were launched in 2013 to manage existing entities and expanding opportunities throughout the region.