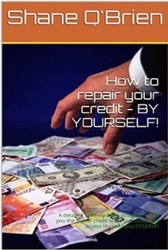 While credit reporting is not mandated by law, what is mandated is that what is reported be accurate.
Phoenix, AZ (PRWEB) December 16, 2013
Available now on Amazon.com is the highly informative e-book titled 'How to repair your credit - BY YOURSELF!' by Phoenix-based real estate agent Shane O'Brien. Written from experience, the e-book both details the author's former struggle with bad credit, and enlightens readers on how valuable the Fair Credit Reporting Act is when attempting to address/fix credit issues. The abundance of information packed into the title is astounding! 'How to repair your credit - BY YOURSELF!' gives a detailed explanation of what readers should do (and avoid doing) when attempting to repair credit alone. Also contained in the e-book are sample letters to be sent to the credit bureaus, numerous tips to boost credit scores by several hundred points within a 30-60 day time frame, as well as an abundance of ways bad credit sufferers can pursue credit repair in the courts and get money judgments from those that don't abide by the the letter of the law. This is definitely the e-book that will help readers gain access to credit and potentially save tens, if not thousands of dollars over a lifetime.
To get a copy of the e-book, please visit http://azpropertiesbyshane.com/buyers-financing-and-credit-resources.html or http://www.amazon.com/How-repair-your-credit-ebook/dp/B00EXRTIIQ/ref=sr_1_1?s=digital-text&ie=UTF8&qid=1379776518&sr=1-1.