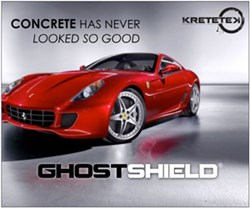 Advances in Concrete Protection
(PRWEB) December 17, 2013
Kretetek Industries would like to take this opportunity to extend congratulations to Lizzy Rae, the winner of the hotly contested video contest. With hundreds of submissions, the video contest was a huge success, and Kretetek would like thank all of the entrants for their submissions. The submission by Lizzy Rae was a well thought out piece that featured excellent video quality and editing skills, all while presenting a thorough overview of the concrete sealing process for those looking to embark on their own concrete sealing projects. Lizzy's winning submission can be seen on YouTube: http://www.youtube.com/watch?v=0RrV2rW3BmM.
Probably the most compelling part of Lizzy Rae's video was the way she and her partners were able to compress a full concrete sealing routine in a short video. The portrayal of steps was accurate and should be a great resource for anyone unsure of how the process works. While there are many videos on the internet that demonstrate how to properly seal a concrete slab, Kretetek wanted to give the viewers a video that showed a regular person not involved in the concrete sealing industry sealing concrete. While many of Kretetek's clients are concrete professionals, builders, contractors, and the like, they have a substantial base of consumers who just want to take care of their own projects without having to shell out significant amounts of money to take care of such straightforward projects as sealing concrete. Everyone can undertake their own concrete sealing projects – they just need the proper materials and a little bit of guidance, which was Kretetek's intent when they decided to host the video competition. They will certainly be offering more video contests in the future, and look forward to reviewing another qualified spate of admissions.
Ghostshield is the main product line for Kretetek Industries, a company committed to manufacturing concrete sealing, cleaning, and general maintenance products of the highest level of quality. The industry is flooded with subpar products manufactured and distributed from companies simply trying to make a quick buck. In stark contrast, Kretetek is a manufacturer that devotes a substantial amount of time and efforts to research and development, working with the latest advances in molecular Nano-technology. By constantly evolving with the ever-changing needs of the marketplace, Kretetek is able to offer products that are on the cutting edge.
A great example of how they are staying ahead of the competition can be seen in the Ghostshield product line. As environmental restrictions and regulations become ever-stricter, solvent-based sealers are increasingly going the way of dinosaurs, banned in more and more states for their environmentally harmful attributes. Kretetek, anticipating this cycle, began developing a comprehensive line of water-based sealers that function at the same high level as a solvent-based counterpart. Kretetek is now offering such varied products as water-based acrylic sealers, water-based concrete densifiers, water-based concrete dyes and water-based epoxies, among many other offerings. They believe that you as a consumer shouldn't have to settle for subpar products that may or may not be legal for use in a particular state. Instead, Kretetek is constantly focusing their efforts to developing the right products that feature the best performance of any competing solutions on the market.