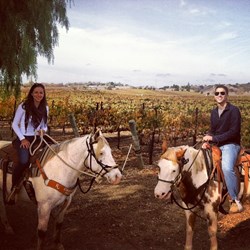 Santa Barbara, CA (PRWEB) December 16, 2013
This private tour starts with wine tasting at Blackjack Ranch Winery, featuring two white wines, pinot noir, and a few red wines. From here the group is taken to Estelle Vineyards to climb on horses with Vino Vaqueros and enjoy an hour and a half excursion on horseback through the vast vineyard featuring several grape varietals.
After riding through the vineyards, the tour stops at Roblar Winery for a wine sensory experience with small bites specifically paired with some of the their best wines.
The last stop of the day on the Equestrian Wine Tour is Bridlewood Winery. Guests enjoy a full wine tasting flight consisting of a range of chardonnay, pinot noir, cabernet sauvignon, and blended wines followed by a horse-drawn carriage ride through the vineyards. This estate was once home to an Arabian horse farm and an equestrian rehabilitation center and now features horse-drawn carriage rides through their vineyards. The building itself is modeled after the California missions with large white arches and Spanish-style colonial architecture.
Grapeline Wine Tours began in Temecula in 2002, and expanded to Paso Robles in 2004 and Santa Barbara in 2007. Serving more than 25,000 wine tasters annually, it is the largest wine tour company in Southern and Central California and also the top rated wine tour company on popular user-review sites Yelp and TripAdvisor.
The Equestrian Wine Tour departs at 10am from all local hotels and concludes at approximately 4:30pm. It is available for small private groups of 6-8 guests and pricing is $349 per person from Solvang and Buellton or $369 per person from Santa Barbara, all inclusive. This tour can be booked on any Saturday or Sunday. Reservations are required.
Reservations are available by calling Grapeline at 1 888 8-WINERY.