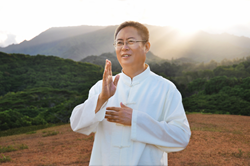 San Francisco, CA (PRWEB) December 17, 2013
It is usually the ending of one year and the birthing of a new year when people look to change their lives and embark on self-discovery. In a time when there are so many life balance stresses from workplace deadlines to shopping demands to financial worries, more people are seeking peace and harmony in these challenging times. To help change the negative frequency and vibration surrounding the earth and its inhabitants, the Founder of Soul Mind Body Medicine™ Dr. and Master Zhi Gang Sha's specially-trained Divine Channels will lead hundreds and thousands to chant continuously 24 hours a day for 15 days from Monday, December 16 through Tuesday, December 31, 2013, leading up to Master Sha's annual New Year's Eve Blessing. Individual participation for the Chant 24/7 for World Love Peace and Harmony teleconference is free with registration available on http://www.DrSha.com.
Dr. and Master Sha's 15-day World Love Peace Harmony Chanting teleconference was created to join people together, heart-to-heart and soul-to-soul to offer soul song blessings to humanity, all souls, Mother Earth and all universes to create love, peace and harmony. Divine soul songs and mantras carry divine frequency and vibration with love, forgiveness, compassion and light to help elevate the frequency of health, relationships, finances, and all aspects of life.
By joining the World Love Peace and Harmony Chanting teleconference for at least 15 minutes a day for 15 days, individuals will not only experience personal healing, reduction, more life balance, joy, peaceful surroundings and transformation in all aspects of life – they will be helping to heal Mother Earth & humanity while positively transforming the global consciousness.
Watch people from around the world share their experiences chanting Love, Peace & Harmony.
https://www.youtube.com/playlist?list=PLBD0B1FC912B85376
After taking this continuous chanting challenge, participants will experience profound changes to their daily life and may be inspired to join a global initiative which helps to further their spiritual journeys for 2014 with the Love Peace Harmony World Family Movement™. This important movement is composed of groups of eas well as students and Divine channels around the world who commit to meeting weekly in person in their area to chant and sing for peace and coming in January online via Dr. and Master Sha's Chanting Channel. These groups chant for community awareness, to cease gang activities, end poverty, stop the abuse of children, women, and animals, change how people treat each other, halt war, terminate suffering and every other modern problem in this world. Not only does this movement aim to stop atrocities happening around the world, but it's designed to make amazing things happen when people gather together for the betterment of the world and its inhabitants. For more information about the Love Peace Harmony World Family Movement™ go to http://soulhealingforlph.blogspot.com/ or contact Marilyn.Smith(at)drsha(dot)com directly.
Master Zhi Gang Sha is the soul leader, a world-renowned master healer, and a divine servant. He is the founder of Soul Mind Body medicine. He was trained as a conventional medical doctor and a doctor of traditional Chinese medicine. The founder of the Institute of Soul Healing and Enlightenment™ and the Love Peace Harmony Movement™, Master Sha is a grandmaster of many ancient disciplines, including tai chi, qigong, feng shui, and the I Ching. Master Sha is also an expert in the most advanced cellular healing science now occurring in China. In the West, he is involved in breakthrough research on the effects of spirit on the human system. Dr. Sha was named Qigong Master of the Year at the Fifth World Congress on Qigong. In 2006, he was honored with the prestigious Martin Luther King, Jr. Commemorative Commission Award for his humanitarian efforts.
Dr. and Master Zhi Gang Sha has more than 100,000 followers on Facebook and more than 250,000 devotees worldwide. There are more than 1,000 Soul Healing Miracle videos posted on Dr. and Master Sha's YouTube Channel (http://www.youtube.com/zhigangsha ), with over 1.1 million views. Everyday people all over the world are experiencing personal Soul Healing miracles and sharing their video testimonials so that others can benefit from these powerful and life-changing results. His blog, http://mysoulhealingmiracles.blogspot.com/ is read by thousands worldwide and legions of people attend his daily LiveStream events at http://new.livestream.com/drandmastersha.
Master Sha is author of more than 10 books published by Simon & Schuster (Atria Imprint) and his newest book, Soul Healing Miracles (BenBella Books) was published November 11, 2013 debuting on USA Today, Wall Street Journal and Amazon bestseller lists. Dr. and Master Sha's most recent New York Times bestselling book, Divine Healing Hands (September, 2012) topped national bestseller lists within 24 hours of publication and his 2011 book, Tao Song & Tao Dance was also a New York Times bestseller. All of Dr. Sha's Soul Power books, DVDs and CDs, reveal soul secrets, wisdom, knowledge and practical techniques to transform every aspect of life, and are bestsellers throughout the world. Visit Dr. Sha on his website http://www.DrSha.com and http://www.facebook.com/DrandMasterSha to receive free daily Divine Healing Hands blessings via webcasts, teleconferences and in-person at events held throughout the world.