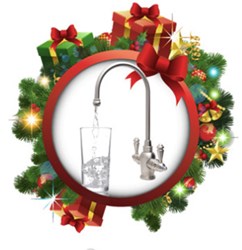 Skip the boring ties and sweaters this year and show your loved ones you care by giving the gift of clean and healthy water.
(PRWEB) December 17, 2013
With Christmas just around the corner APEC Water Systems announces one of their biggest sales of the year. Take 5% off a variety of health conscious products including drinking water systems, whole house systems, replacement water filters, air purifiers and many items that serve as great stocking stuffers like shower filters and water bottles. Those who missed out on APEC's Black Friday sale will be pleased to see that this week's sale offers discounts on a larger variety of products. Visit APEC's promotion page to get the coupon code for 5% off and apply it in the priority code box upon checkout to save big.
APEC promotes healthy drinking water systems that provide unlimited filtered water right in the kitchen, eliminating the need for bottled water. APEC's filtration systems use reverse osmosis filtration process, a technology widely used by many bottle water manufacturers, to provide great tasting water right at home. Reverse osmosis is the best technology available for water filtration because it can remove up to 99% of all contaminants found in water, making them far more effective than faucet filters, water pitcher filters, refrigerator filters and even some bottled water. For a limited time take 5% off all drinking water systems and enjoy the New Year with contaminant free water.
In addition, take 5% off all whole house systems for chlorine, sediment and odor removal. Pair your drinking water system with whole house water filtration to filter and provide chemical-free water to every faucet in the home. Filtered water throughout every shower means softer hair, smoother skin and healthier lungs. This incredible discount can also be applied towards APEC's most popular salt-free water softener with advanced water treatment technology that reduces hard water scale, prolongs life of appliances and pipes, and reduces water spots for easier cleaning. The combination of these proven filtration technologies provide comprehensive and effective filtration for treating modern water pollutants in the home.
Avoid the madness of mall crowds and traffic by shopping at home, all while getting the best discounts. "Skip the boring ties and sweaters this year and show your loved ones you care by giving the gift of clean and healthy water. Take 5% off our great stocking stuffers like shower filters, BPA free water bottles, bath balls and much more," says Ed Shih of APEC. Give your loved ones an affordable and effective shower filter that helps to remove chlorine to soften hair and skin while preventing chlorine from being absorbed by the skin and inhaled through the lungs. This holiday season's hot item is sure to be APEC's BPA free healthy glass water bottles. APEC features popular glass water bottle brands such as Takeya and bkr to promote eco-friendly products and reduce plastic water bottle waste. This promotion ends December 23rd so hurry in for the last minute Christmas deals.
About APEC Water
For over 17 years, APEC has been an industry leading manufacturer of high performance residential and commercial water purification systems. Based out of Southern California, APEC specializes in building the highest quality reverse osmosis drinking water systems and whole house water filters right here in the USA. The company offers their products exclusively through their website at Freedrinkingwater.com which also provides an extensive water filtration guide and library to the public. To learn more about APEC Water and their current sales promotions, please visit http://www.freedrinkingwater.com or call customer service at 1-800-880-4808 for more information.