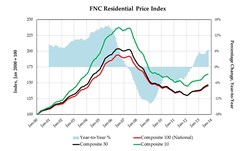 The deceleration in the pace of price increase is expected as the housing market heads into the winter low season after strong growth in the spring and summer.
Oxford, Miss. (PRWEB) December 17, 2013
U.S. home prices continue to rise in October despite signs of decreasing mortgage and home sale activity. The latest FNC Residential Price Index™ (RPI) shows October home prices are up, albeit at a slower pace than previous months. The index, constructed to gauge underlying property value based on non-distressed home sales, showed a 0.3% month-over-month increase from September to October—its weakest acceleration in eight months.
The deceleration in the pace of price increase is expected as the housing market heads into the winter low season after strong growth in the spring and summer. Sustained by moderate economic growth and job creation, housing market fundamentals are expected to improve continually as indicators of distressed mortgages and home foreclosures continue to point to new lows. As of October, completed foreclosure sales nationwide contributed 13.9% to total home sales, up slightly from September's 13.4% but down from 17.0% a year ago. The uptick in completed foreclosure sales is primarily a seasonal trend as banks tend to dispose of distressed properties more quickly in winter months. In another sign of slower housing activity and weakening price growth, the average asking-price discount has been trending higher in recent months. The forward-looking November sales-to-list price ratio fell to 95.5, down from 95.8 in October and 96.2 in September.
FNC's RPI is the mortgage industry's first hedonic price index built on a comprehensive database that blends public records of residential sales prices with real-time appraisals of property and neighborhood attributes. As a gauge of underlying home values, the RPI excludes sales of foreclosed homes, which are frequently sold with large price discounts, reflecting poor property conditions.
Based on recorded sales of non-distressed properties (existing and new homes) in the 100 largest metropolitan areas, the FNC 100-MSA composite index shows that October home prices increased from the previous month at a seasonally unadjusted rate of 0.3%. The two narrower RPI indices (30- and 10-MSA composites) also rose at a slower pace than previous months. On a year-over-year basis (YOY), home prices continue to accelerate moderately, up 6.5% from the same period a year ago, the fastest growth in more than seven years. (August 2006 was the last time the YOY growth measured similar magnitude.) The 30-MSA and 10-MSA composites recorded slightly faster YOY price appreciation.
Among the country's major metropolitan areas, Miami recorded the biggest price increase (2.4%) in October after rising 2.0% in the previous month. Riverside, Calif., Columbus, Ohio, Orlando, Las Vegas, Baltimore, San Antonio, and Houston also recorded more than a 1.0% price increase. Home prices moved lower in six metro areas, most notably in Denver where the city's RPI has declined for three consecutive months. The city's foreclosure sales were up in recent months, likely dampening home prices. Rising foreclosure sales in St. Louis and Cincinnati also contributed to declining prices.
Las Vegas and Phoenix showed the largest year-over-year price appreciation at 26.9% and 20.3%, respectively, followed closely by Riverside and Los Angeles at 19.1% and 18.0%. Since early 2012, home prices in these four cities have appreciated rapidly by an average 34.0% (Phoenix-46.0%, Las Vegas-40.3%, Riverside-25.9%, and Los Angeles-23.8%). In total, 16 metro areas have shown double-digit price appreciation since early 2012, where the national average as indicated by the 100-MSA composite RPI stands at 11.3%. Although markets are improving as indicated by home sales and foreclosure activity, the recovery continues to move slowly in cities such as Chicago, St. Louis, Cincinnati, New York, and Columbus.